Events
Event
Title:

Wasps Minigolf Open 2017

When:

03.09.2017

Where:

Dobbies Garden Centre - Peterborough

Category:
Description
The first Sussex Wasps Open was competed for on Sunday 3rd September at Peterborough Minigolf. After many months of preparation, the tournament produced some high quality action before Derek Bentall triumphed with a victory, with a comfortable seven shot advantage at the end. Four matching 22's was good enough for the wire to wire success for Derek on eight under, giving him his first tour title. Wasps captain Steve Lovell was second on one under, having briefly threatened another last round fightback. After nearly five years away, the tour welcomed back Jon Angel who took third spot on three over.
It was quite clear by the end that Derek hadn't quite expected the day to pan out as it had and was almost lost for words, but did provide these. "Unexpected yet highly thrilled and proud to have won my first BMGA tour event. The fact it was the inaugural Wasps Open makes it that more special. I have to thank Jon Angel and his team for providing us with such a great course, everyone who played enjoyed the day and many thanks to my Wasps captain Steve for weekend hospitality, support and friendship. A very special day indeed, many thanks to all the players for coming to Peterborough - much appreciated."
There were a number of prizes throughout the day, including the aces prize, won by newcomer Robert Linnell, beating Adam Kelly at the first playoff hole. In what maybe a first for the tour, there was a nearest the pin contest on the tricky 11th, which went to a three way playoff between Derek, Steve and Owen Johnson, all of who put their tee shots just under nine inches from the hole. Derek won on the second effort after all three players putted into the water.
Wasps captain Steve Lovell was delighted with how the day went. "I am full of admiration for everyone who took part today. It wasn't easy to fit in around the public but everyone showed a fantastic level of tolerance and in return, the on course crowd got to see some wonderful minigolf. It seemed to add to the occasion more than hinder it. Although I did wonder if it would impact on the length of the rounds, everything went to schedule."
He continued, "I'm delighted for Derek, for breaking his duck. It was totally deserved and he never gave anyone a sniff of a chance. I want to personally thank everyone who made the effort to support the event to be the success it was. The staff at Peterborough are an absolute credit to themselves, special thanks to Carys, Simon and Roger, who have done so much. Also to Jon for the foresight to provide a course as good as that. Finally, my Wasps teammates for their support. We're a small club who look to take in players that wouldn't normally be given a chance. You guys are brilliant."
Results from the competition can be found in the attached spreadsheet.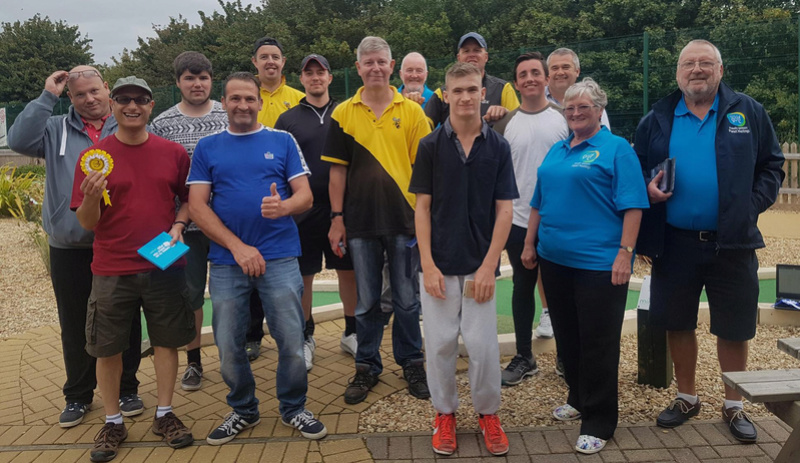 The 2017 Wasp's Open Players (photo courtesy of Paul Johnson)
Thanks to Steve Lovell, Captain of the Sussex Wasps for the report.
Venue
Venue:
Description
Sorry, no description available
Share This Page
Login
Who's Online
We have 50 guests online