Events
Event
Title:

World Crazy Golf Championship 2017

When:

10.06.2017 - 11.06.2017

Where:

Hastings Seafront - Hastings

Category:
Description
The 2017 World Crazy Golf Championships took place over the weekend of 10th and 11th June, attracting players from across the UK and Europe, all competing for the biggest prize fund ever in the competitions history. As well as the £1000 for the overall winner and an additional £2,000 prize fund for the top players overall, the 2017 event also had a purse of £1,500 exclusively for the novice players, with the best placed novice picking up £500 at the event.
After a thrilling final day, Olivia Prokopova from the Czech Republic became a two time World Champion with a stunning victory, storming through the field to win the event by 5 shots.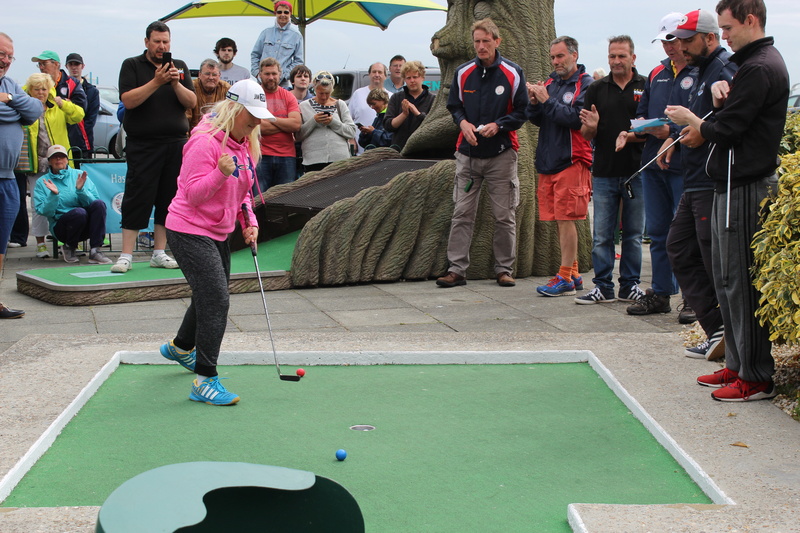 Olivia sinks the winning putt to become a two time World Crazy Golf Champion
Steve Lovell secured the second place with Will Donnelly finishing third overall. Footage from the final holes can be found at https://www.facebook.com/BMGAMinigolf/videos/1465826393440926/
In the Novice Championship, Jimmy Exall, making his debut in the event, won the title by four shots from David Taylor in second with Alex Hyman in third. The final holes of the novice championship can be viewed at https://www.facebook.com/BMGAMinigolf/videos/1465819380108294/
Jessica Pilgrim won the Gommery trophy, presented by Dave Gomm for achieving the most hole in ones for any player outside of the top 18.
Full results from the event can be found at http://www.bmga.co.uk/2017WCGC/result.htm
Venue
Venue:
Description
Sorry, no description available
Share This Page
Login
Who's Online
We have 42 guests online