Events
Event
Title:

British Club Championship 2017

When:

23.04.2017

Where:

Wroxham Barns - Hoveton

Category:
Description
Sunday 23rd April saw the eagerly awaited British Club Championship being played out at the Wroxham Barns Adventure Golf Course in Norfolk, the first time the course has hosted this event with the Midlands Minigolf Club winning the title for the third time in their history.
The competition saw 7 teams taking part, representing 5 clubs: 2 from Kent, 2 from Cambridgeshire & Essex and one each from Hastings, Sussex and Midlands.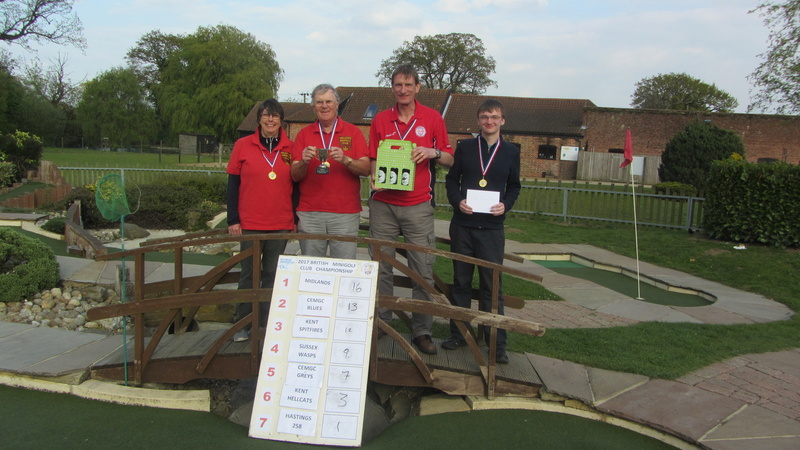 The winning Midlands Minigolf Club Team celebrate their victory at Wroxham Barns
 The competition saw the teams play each other in a round robin league and after the seven rounds, the Midlands Minigolf Club Team took the title, remaining unbeaten across the day, winning 5 matches and drawing one to finish top of the league with 16 points.

The Cambridgeshire and Essex Blues took the silver medal for the second year running, finishing with a tournament record of 4 wins, 1 draw and 1 defeat and 13 points

The 2016 Champions, the Kent Spitfires, finished in the bronze medal position with 12 points from 4 wins and two losses.
The Sussex Wasps finished in fourth place on 9 points with three wins and three losses on the day.
The Cambridgeshire and Essex Greys can fifth with 2 wins, 1 draw and 3 defeats.
The Kent Hellcats took sixth place with 3 points overall having won 1 match and lost 5 on the day.
Planet Hastings 258 came 7th overall with 1 point from a draw with the eventual winners and 5 losses.
The next event on the BMGA tour is the British Championships taking place at Strokes Adventure Golf in Margate across the weekend of the 6th and 7th May. Full details can be found at http://www.minigolf.org.uk/joomla/index.php?option=com_eventlist&view=details&id=163&Itemid=56

Photos of all the teams can be found at https://www.flickr.com/photos/13680867@N02/albums/72157679749805114 courtesy of the KMGC

Venue
Venue:
Description
Wroxham Barns is one of Norfolk's most popular visitor attractions offering a range of shopping and crafts, together with activities for younger family members including Junior Farm. There is also a restaurant cafe which uses the best of local produce.

Wroxham Barns is open every day 10am to 5pm (closed 25, 26 December and 1 January) and is 10 miles from Norwich, take A1151 to Wroxham then follow brown and white tourist signs for 1.5miles on the Tunstead Road.
Tel. 01603 783762.

Share This Page
Login
Who's Online
We have 73 guests online