| | | | |
| --- | --- | --- | --- |
| Pope makes it a year to remember as he tops the BMGA Shield for the 2017 season | | | |
The final end of year BMGA Shield list was released this week (see below) following the final stroke play event of 2017, the Star City Open. A terrific season of thirteen strokeplay events saw Ed Pope (SWMGC) holding off stiff competition throughout the year and topping the 81 players eligible across the season to take the title for 2017.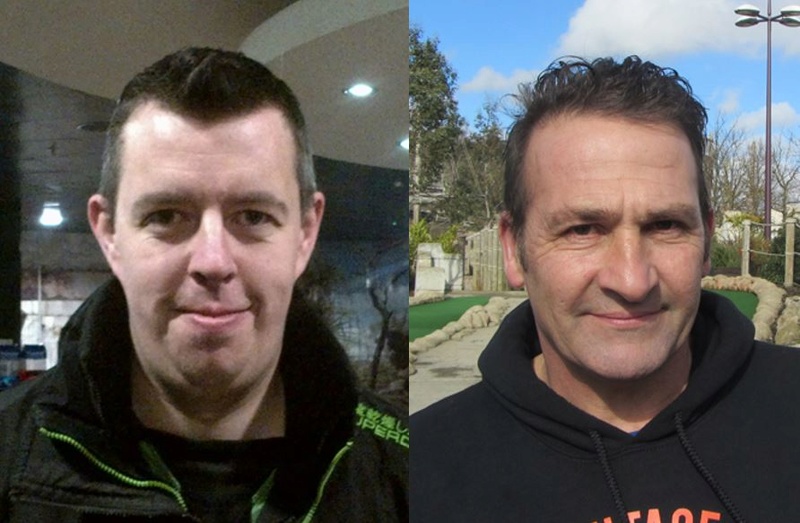 Ed Pope (Left) - 2017 SHIELD Champion and Category 3 winner / Paul Johnson (Right) - Category 2 winner
Ed will receive the BMGA shield - his to keep for the 2018 season - that will be presented at the first event in 2017 and will be awarded to the player at the top of the rankings after each season. He will also receive the mini shield for winning the Category 3 title (his to keep forever!). The other shield winner for 2017 was Paul Johnson (KMGC) who for the second season in a row won the Category 2 title.
Congratulations to all who took part and made it a fantastic climax to a great season. 
Running season long, the BMGA SHIELD (formerly know as the Season Only Rankings) were first introduced in 2009 with the aim of giving all players a more immediate and season specific breakdown of where they stand in relation to all the players that participate in tournaments each year. The SHIELD does not replace the Official Rankings (which are still the ultimate benchmark for players) but run in tandem with the official rankings.

  Paul Johnson and Owen Johnson pick up their Category winner cut glass trophies for their 2016 victories
The SHIELD has prizes for the overall leader and category leaders at the season end. This season saw a change in the SHIELD calculations following successful motions at the AGM on 4th March. Category 1 players were not eligible for the SHIELD this season and all eligible players for the BMGA Shield prize remained in the category in which they started the season but their multiplier changed if they move in the OOM. For example, a player who started the season in Category 2 remained eligible for the Category 2 prize if they moved into Category 1 during the season but the Category 1 multiplier would apply to their points from then on.
 

The focus is always to reward players for their results across the year, with particular emphasis on Personal Best performances, improvements round to round within any given tournament along with specific points for aces. The breakdown of how the rankings are made up are listed below:
Relative result in a tournament - 10 points per place

Personal Best - 50 points

 
The following points are multiplied based on Category Status i.e. Cat 2 sees the points x 2, Cat 3 x 3 and Cat 4 x 4
Aces - 10 points each

Hatrick of aces - 50 points

Consecutive improvement round by round - 25 points per round

 
The final standings for the BMGA Shield following the Star City Open are as follows:
| | | | |
| --- | --- | --- | --- |
| Pos | Name | Total | Club |
| 1 | Ed POPE (C3) | 7,450 | SWMGC |
| 2 | Paul JOHNSON (C2) | 6,315 | KMGC |
| 3 | Matt DODD (C2) | 6,080 | KMGC |
| 4 | Rocky BULLIN (C3) | 5,795 | MMGC |
| 5 | Dave GOMM (C2) | 5,450 | PHCGC |
| 6 | Tiger PRAGNELL (C2) | 5,120 | MMGC |
| 7 | Ruth BURKE (C2) | 4,960 | MMGC |
| 8 | Andy EXALL (C2) | 4,880 | KMGC |
| 9 | David HARTLEY (C2) | 4,850 | PHCGC |
| 10 | Owen JOHNSON (C3) | 4,830 | KMGC |
| 11 | Marion HARTLEY (C3) | 4,820 | PHCGC |
| 12 | Terry EXALL (C2) | 4,550 | PHCGC |
| 13 | Adrian AMEY (C2) | 4,130 | CEMGC |
| 14 | John SHARP (C3) | 3,905 | KMGC |
| 15 | Marion HOMER (C2) | 3,800 | KMGC |
| 16 | Matty EXALL (C3) | 3,510 | KMGC |
| 17 | Seve KUKIELKA (C2) | 3,050 | MMGC |
| 18 | John MCIVER (C2) | 3,020 | PHCGC |
| 19 | Henri MYERS (C3) | 2,400 | MMGC |
| 20 | Ed HAYNES (C2) | 2,240 | KMGC |
| 21 | Martin RELF (C3) | 2,125 | SWMGC |
| 22 | Cindy KUKIELKA (C3) | 1,995 | MMGC |
| 23 | Alex HYMAN (C3) | 1,600 | MMGC |
| 24 | David TAYLOR (C4) | 1,580 | PHCGC |
| 25 | Helen DODD (C3) | 1,540 | KMGC |
| 26 | Neil BROWN (C4) | 1,510 |   |
| 27 | Charlie DART (C4) | 1,485 | SWMGC |
| 28 | Chloe ALLART-BENNETT (C4) | 1,320 | KMGC |
| 29 | Freddie BLACKBURN-SHAW (C3) | 1,290 | PHCGC |
| 30 | Jack NIXON (C3) | 1,270 | MMGC |
| T31 | Anthony CLARKSON (C4) | 1,240 | KMGC |
| T31 | Simon FARMER (C3) | 1,240 | MMGC |
| 33 | Jake TETLEY (C3) | 1,150 | MMGC |
| 34 | Kathryn HAYNES (C3) | 1,125 | KMGC |
| 35 | Dean CRIPPS-HUMPHREY (C3) | 1,100 | KMGC |
| 36 | Jimmy EXALL (C4) | 1,040 |   |
| 37 | Brian GOULD (C3) | 1,035 | PHCGC |
| 38 | Geoff FARMER (C3) | 985 | MMGC |
| 39 | Jessica PILGRIM (C4) | 960 |   |
| 40 | Simon BROWN (C4) | 950 | WLMGC |
| 41 | Joshua CLARKE (C4) | 940 |   |
| 42 | Jam TRUBRIDGE (C3) | 900 |   |
| T43 | Rupert PILGRIM (C4) | 880 |   |
| T43 | Peter HOWARTH (C4) | 880 | SWMGC |
| 45 | Robert LINNELL (C4) | 830 | SWMGC |
| 46 | Anthony TETLEY (C3) | 690 | MMGC |
| 47 | Matt BRAY (C3) | 660 | SWMGC |
| 48 | Mark WATSON (C4) | 660 |   |
| 49 | Steve CHILDS (C4) | 650 |   |
| 50 | Alan EVANS (C4) | 630 |   |
| T51 | Steve GOW (C3) | 600 | PHCGC |
| T51 | Gareth TAYLOR (C4) | 600 | WLMGC |
| T53 | Thomas WRIGHT (C4) | 590 |   |
| T53 | Duncan WEST (C4) | 590 |   |
| T55 | Seth THOMAS (C3) | 520 | MMGC |
| T55 | Martyn WILLIAMS (C4) | 520 | WLMGC |
| T57 | Carl DAVEY (C4) | 490 |   |
| T57 | Jon ANGEL (C3) | 490 | LMGC |
| T59 | Ben HOLROYD (C4) | 470 |   |
| T59 | Julian TURNER (C3) | 470 |   |
| T59 | Christine M'BAYE (C4) | 470 |   |
| T62 | Sam CHILDS (C4) | 450 |   |
| T62 | Toby AUSTIN (C4) | 450 |   |
| 64 | Ollie GREENHEAD (C3) | 445 | CEMGC |
| 65 | Liz GOMM (C3) | 420 |   |
| 66 | Wanda HOBBS (C4) | 410 |   |
| 67 | Natasha SMITH (C3) | 405 |   |
| 68 | Kerry WEST (C4) | 400 |   |
| 69 | Tina TETLEY (C3) | 395 | MMGC |
| 70 | Keith KELLARD (C3) | 345 | CEMGC |
| 71 | Jas KUKIELKA (C3) | 340 | MMGC |
| T72 | Paula BLOODWORTH (C4) | 320 |   |
| T72 | Andrew GOMM (C3) | 320 |   |
| 74 | John WRIGHT (C4) | 290 |   |
| 75 | James HOLLINRAKE (C4) | 270 | KMGC |
| 76 | Steve RAGLESS (C3) | 255 | SWMGC |
| T77 | Scott WALKER (C4) | 250 |   |
| T77 | Chris WICKES (C4) | 250 | CEMGC |
| 79 | Adam DUSTIN (C4) | 170 |   |
| 80 | David WALKER (C4) | 100 |   |
| 81 | Shelley COOPER (C4) | 70 | KMGC |
The bracketed information refers to the players status for the season (based on their ranking at the start of the year):
C2 - Category 2 Players
(Places 17 - 32 inclusive in the official Order of Merit)
C4 - Category 4 Players
(any player in their first three events on the tour - unless achieving cat 2 status outright)


C3 - Category 3 Players (all other players)

The individual category standings are as follows:
| | | | |
| --- | --- | --- | --- |
|   | CATEGORY 2 | Total | Club |
| 1 | PAUL JOHNSON | 6,315 | KMGC |
| 2 | MATT DODD | 6,080 | KMGC |
| 3 | DAVE GOMM | 5,450 | PHCGC |
| 4 | TIGER PRAGNELL | 5,120 | MMGC |
| 5 | RUTH BURKE | 4,960 | MMGC |
| | | | |
| --- | --- | --- | --- |
|   | CATEGORY 3/4 | Total | Club |
| 1 | ED POPE | 7,450 | SWMGC |
| 2 | ROCKY BULLIN | 5,795 | MMGC |
| 3 | OWEN JOHNSON | 4,830 | KMGC |
| 4 | MARION HARTLEY | 4,820 | PHCGC |
| 5 | JOHN SHARP | 3,905 | KMGC |
Share This Page
Login
Who's Online
We have 34 guests online