| | | | |
| --- | --- | --- | --- |
| Kelly has a day to remember winning the Kent Open and is awarded the VTK Shield in Sidcup | | | |
The 2017 Kent Open took place at Mr Mulligan's Dino Golf in Sidcup on Sunday 12 November. The tournament attracted a record attendance for a single day tournament in British minigolf history, as 42 competitors from five clubs battled each other in three rounds of strokeplay.
The 2017 Kent Open Players get ready to start the competition
Round one saw Adrian Amey from Cambridge and Essex Minigolf Club take the lead, but after a delay to the second round to allow an observation of the two minutes silence, the lead was tied between two former Kent Open champions - Michael Smith (Midlands Minigolf Club) and Sean Homer (Captain - Kent Minigolf Club) with Adam Kelly (Kent Minigolf Club) two shots behind. 
The third round was re-ordered and players went out in leaderboard order. As the final group of Sean, Michael and Adam came to the last two holes, the tournament title was decided by the tricky hole 17, and tied up by the final 18th hole - with the other competitors all looking on.
What was unknown to the top group was that Sussex Wasps' Captain, Steve Lovell had had a great last round of 32, which nudged Michael out of the top three, and the final positions were Steve in third, Sean second and Adam winning his first Kent Open title.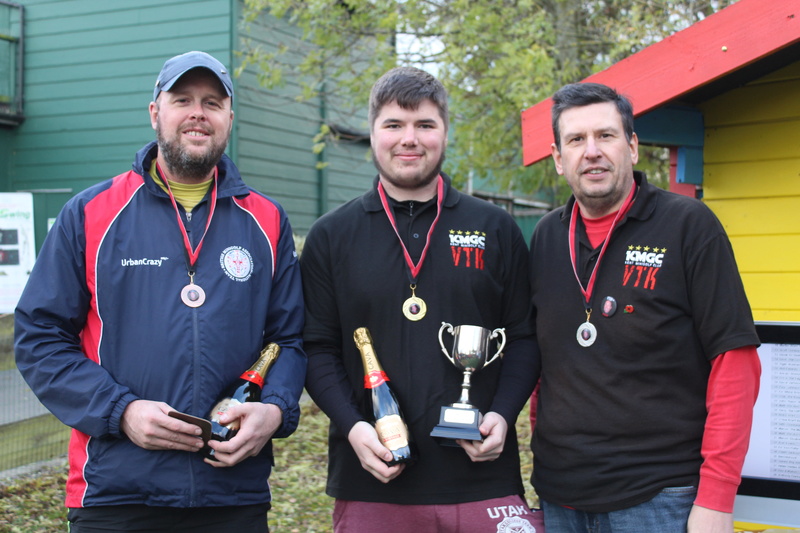 The 2016 Kent Open Podium medalists - Steve (3rd), Adam (Champion) and Sean (2nd)
The Kent Minigolf Club (KMGC) are well known for their prize giving and their twelfth Kent Open was no exception! Not only were players awarded prizes at the top of the table, but those coming last for their clubs; most improved and most aces were also rewarded - Kent have always encouraged players and this was no exception.
Speaking after receiving his winners' medal and trophy, Adam said 'Winning my first Kent Open is the perfect end to a successful season on the course. It was particularly satisfying to come through such a tightly bunched field to win, especially considering the near misses I have had in past editions of this event. The day was made even more special by being awarded the VTK shield, making it two unexpected titles in a day!'
This Kent Open was also a special occasion for Vice Captain Scott Lancley as it marked his tenth year as a member of the KMGC. To mark this occasion, all competitors wore a commemorative badge with Scott's face on it, the medals had the same image, and Scott was presented with a cake by Captain, Sean.
Afterwards, Scott said 'I would like to thank Sean and Marion for the tasty Chocolate cake, I never thought I'd enjoy eating (or was that stuffing??) my cheek off. As for the badges, I was very honoured to see my face worn by so many and supported by so many of our minigolf family."
Reflecting on another Kent Open weekend, Club Captain Sean Homer said "Our Open has always been a great event and this year continued that trend. Two days of top class minigolf saw three new names on our club hall of fame - Dave, Derek and Adam (the KIT, the GKIT and the KO). I'd like to thank Mark, Hannah, Kelly and all the team at Mr Mulligans for their ongoing support and hospitality to the KMGC (now 8 years in a row) and we look forward to returning again in 2018. Thanks also to all the players who took part - a record turnout again for us which is hugely satisfying and your support is really appreciated. Big thanks as always to Marion and Scott for running the show over the weekend - they make everything so much easier and have always been terrific help in all our events. And of course, a huge thanks to all of the mighty KMGC who took part over the weekend - Shelley, Anthony, Ryan, Helen, James, Owen, Ed, Marion, Matty, Chloe, Matt, John, Paul, Scott, Andy, Tony, Dave and Adam - a fine bunch indeed and makes all the hard work worthwhile!! VTK!"
Full results from the event can be found at http://bmga.co.uk/2017KO/result.htm and a photostream of the event (courtesy of the KMGC) can be found at https://www.flickr.com/photos/13680867@N02/albums/72157666260533719
The weekend also saw the traditional curtain raiser event – the Kent Invitational Tournament – take place on Saturday. Congratulations go out to Dave Donnelly for winning the KIT for the first time and also special mention to Derek Bentall for winning the Guest KIT. Full results from the KIT can be found at http://bmga.co.uk/2017KIT/result.htm
The next event on the BMGA is the season finale competition, the Star City Open in Birmingham on December 3rd.
Words and photos: Marion Homer
Last Updated ( Monday, 13 November 2017 19:54 )
Login
Who's Online
We have 26 guests online