| | | | |
| --- | --- | --- | --- |
| 10 years and 10 Opens - the KMGC's Vice Captain Scott Lancley looks forward to this weekends' Open | | | |
This weekend sees the Kent Minigolf Club hosting their 12th Open – one of the highlights of the season and a fitting way to close the outdoor season on the tour. This years competition sees an important anniversary for the club as it marks the 10th Kent Open for the club's Vice Captain Scott 'Donkey Gringo' Lancley. So what better time to catch up with Scott and ask him a few questions as we get ready for the Open on Sunday...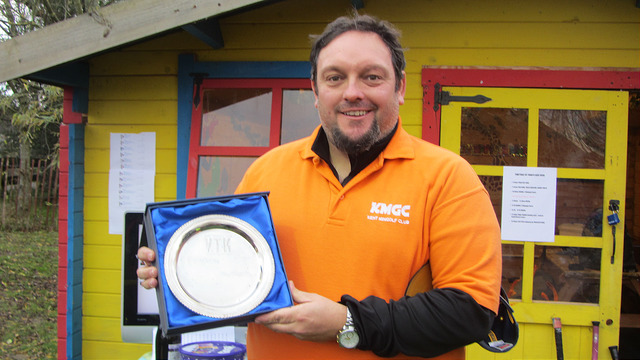 So Scott, this year is your tenth KO, what are your memories of the first year in 2007 at Strokes Margate?
Memories of that KO were playing in a group consisting of Ted McIver (who at the time was UK number 1) and the always  friendly Marion Homer. It was the year the tournament was decided by a final four way playoff between Ted, Tim "Aceman" Davies, Andy Exall (who then was a part of Tonbridge MGC) and Kent captain, Sean Homer. If I'm right it was Sean's first Kent title with a Ace at the first playoff hole.
What were your expectations before you went to it?
Pre tournament I had been shooting low 40's so after watching the British Open there two months before, I knew at least I'd not be too much of a burden on the field. Armed with my own putter, a bright Yellow Dunlop golf ball and a course ball in my pocket, I shot a first round of 57!
What were the highlights of that KO for you?
Coming 24th out of 32 in my first event and improving each round (57,51,45).
How has your game improved since that first KO?
I was never a natural talent, so any improvement has been through practice at home, or pre tournament practising lines and pace. The hardest part is mentally, this has been a cruel sport on more than one occasion for me so there is always room to improve mental preparation. Ball use and collections at the elite end do make a difference, but I love the challenge of just playing with a golf ball to see the lowest score I can get (usually with my shiny Chromax ball)
What are your top three memories from KOs since 2007?
Winning the novice title in 2008 by 23 strokes.
Finishing 4th a year later, my highest ever finish and the last time we played at Strokes, Margate.
Receiving the KMGC shield at the end of the tournament in 2015, because it was voted by my fellow KMGC members, it made me very proud. 

You've always brought along, and encouraged new players at the KO, what message would you give to anyone thinking of taking part?
I've always tried to introduce family and friends to the event due to the friendly atmosphere we always try to create. It's a one ball event which does kind of make it an equalizer. I know three maybe four players will be participating in their first KO this year because of my invite which is very pleasing. We've all played a crazy golf course somewhere and been a winner at some point, why not try our great tournament?
What do you look forward to the most at the KO?
For me it's always been about the ball, for many years now it has been a one ball tournament, I like that kind of challenge. In the years the ball has changed its like having to learn line and pace all over again even though I'm familiar with the course.
What has been your proudest moment as VC of the KMGC?
I've mentioned the shield award already so I'll mention three other moments;
Firstly, being part of Kent Minigolf club for just under 10yrs.
Secondly captaining the Kent Hurricanes over the years to a couple of 3rd places, and at least one runner-up spot in the club championships.
Finally, just seeing the Kent Open grow and become the biggest club participated tournament outside the BMGA official calendar.
What do you think the next season holds for the KMGC?
I always love to see new novices taking part and in the future I'd love to develop a youth team for the KMGC. I wasn't quite one of the Kent originals, but I hold dear the principles that Sean and Marion have always promoted: have a club that is friendly first and by doing so create an atmosphere that all our members can improve their minigolf personal bests, no matter their ability or for some of our member's (past and present) overcoming their physical challenges.
Thanks For your time Scott and good luck for the weekend!!
And there's still time to enter the Kent Open and join over 40 players who will be taking to the greens in Sidcup on Sunday. Full details can be found at http://www.minigolf.org.uk/joomla/index.php?option=com_content&view=article&id=846:the-12th-on-the-12th-the-kent-minigolf-club-once-again-host-their-open-at-sidcup&catid=1:latest-news&Itemid=105&Itemid=60
Share This Page
Login
Who's Online
We have 26 guests online