| | | | |
| --- | --- | --- | --- |
| Delight for the Donnelly duo in the Doubles at Dunton | | | |
Congratulations to DD27, Will Donnelly (MMGC) and Dave Donnelly (KMGC) for becoming the

2017 British Doubles Champions

at Dunton Hills on Sunday 20th August. This was the second year running that the competition took place in Essex, the culmination of a fantastic weekend of minigolf.

The father and son duo won the 2017 British Doubles Championship after beating The Burke Party, Ruth Burke (MMGC) and Rocky Bullin (MMGC), by 1 hole in the final following a stunning late comeback.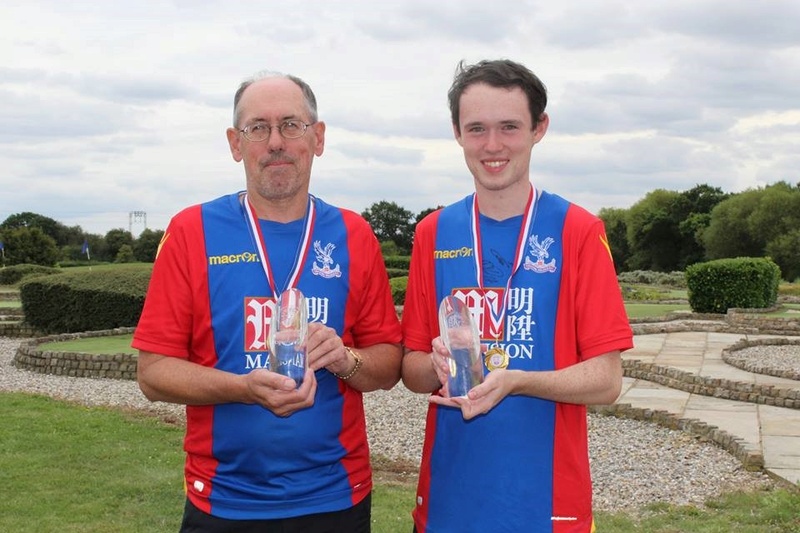 The 2017 British Doubles Champions- DD27 (Dave Donnelly and Will Donnelly)
 #PrankTeam, consisting of CEMGC teammates Martin Greenhead and Mark Wood finished in third place following victory at the fourth sudden death hole in their bronze medal match. Borne To Be Wilde, Paul Preston (WMGC) and Andy Wilde (CEMGC) finished in fourth place.     
Speaking following his first BMGA Tour victory, Dave Donnelly said "I am so pleased to have won this year's event for two reasons. Firstly, to record my first win on the BMGA Tour but, more importantly, to have done it with my son Will was really special. I'd like to thank him for showing me the various lines to play which I did my best to follow! We are the first family pair to have triumphed in the British Doubles which makes this success all the more enjoyable. Many thanks to all of our opponents throughout the day in an event that was played in a really great competitive spirit and, obviously, to Sean and Marion and the BMGA EC, for their usual superb organisation of the excellent event."
Will Donnelly added "I'm delighted to have won the 2017 British Doubles Championship with my Dad. It was a really challenging day and we managed to get over the line in the end. Nothing beats that winning feeling and to win it with my Dad, becoming the first father and son duo to do so, makes it even better. It has been a tough year for the pair of us and to win this together means so much to us. I would like to thank everyone for their support, great spirit over the day and to finally dedicate this victory to my Grandad who passed away last year."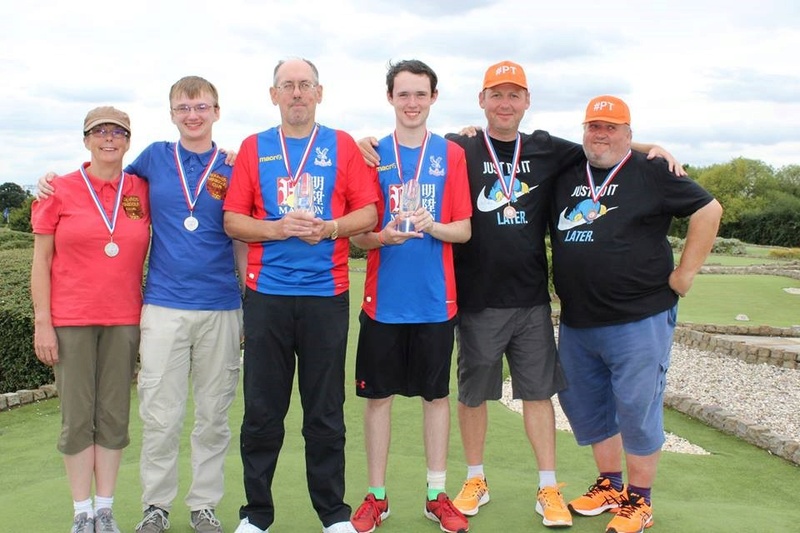 The British Doubles top three. Left to right: 2nd The Burke Party, 1st DD27, 3rd #PrankTeam
 In the Pool B competition, for positions 9-15, A Gommedy of Errors (Dave Gomm and John McIver) picked up the gold medal with a ninth-place finish. The Whippin Boys (Andy Exall and Matty Exall) finished in tenth. The German Magicians (David Hartley and Marion Hartley) took eleventh spot overall.
The full final placings were as follows:
1st – DD27 (Will Donnelly/Dave Donnelly)
2nd – The Burke Party (Ruth Burke/Rocky Bullin)
3rd – #PrankTeam (Mark Wood/Martin Greenhead)
4th – Born To Be Wilde (Paul Preston/Andy Wilde)
5th – Fairway2Heaven (Jack Nixon/Charlie Dart)
6th – Doctor Sheila Achilles Healer (Steve Lovell/Derek Bentall)
7th – Smooooth Rocket (Adrian Amey/James Rutherford)
8th – Forza Casuale (Marion Homer/Sean Homer)
9th – A Gommedy of Errors (Dave Gomm/John McIver)
10th – The Whippin Boys (Andy Exall/Matty Exall)
11th – The German Magicians (David Hartley/Marion Hartley)
12th – The Ace Brothers (Tiger Pragnell/Terry Exall)
13th – Team Rocket (Chris Wood/Alice Steward)
14th – The Fast and The Furious (Owen Johnson/Paul Johnson)
15th –  Team Scusty (Adam Dustin/Scott Walker)
A full, round by round, breakdown of results from the tournament can be found at https://www.facebook.com/BMGAMinigolf/posts/1537192462970985A and a photo stream of the event, courtesy of the KMGC, can be found at https://www.flickr.com/photos/13680867@N02/sets/72157685401339543
The updated 2017 BMGA Roll of Honour with all the results from the season so far can be found at http://www.minigolf.org.uk/joomla/index.php?option=com_content&view=article&id=788:roll-of-honour-2017&Itemid=56
BMGA British Doubles Championship Roll of Honour-

2006- Jon Angel and Keith Kellard
2007- John McIver and Tim Davies 
2008- Andy Exall and Trevor Exall 
2009- Jam Trubridge and John McIver 
2010- Chris Harding and Marc Chapman 
2011- Chris Harding and Marc Chapman 
2012- John McIver and Nick Chitty 
2014- Chris Harding and Michael Smith 
2016- Nuno Cunha and Steve Lovell
2017- Will Donnelly and Dave Donnelly
Speaking following the 2017 British Doubles, and previewing the 2017 World Adventure Golf Masters, BMGA Chairman Sean Homer said "Dunton Hills gave us a really entertaining and exciting weekend and as always it was great to see so many pairs taking part in what has become one of the highlights of the tour in recent years. The past few months have been pretty hectic for the players on the tour and while most players are getting ready for a break from minigolf, the Great Britain team are gearing up for our assault on the WAGM and World Championships in Croatia. Our squad is looking in fine form with some excellent results over the recent events on the tour and I am confident we will do our Nation proud on the greens in Zaton. Watch out for previews and updates on our intrepid players in the coming weeks for what promises to be an exciting month of international competition."
The Great Britain Minigolf Squad will be in Croatia at the 2017 World Adventure Golf Masters on Monday 11th and Tuesday 12th September with nine British participants in the event. Will Donnelly will also be representing Great Britain at the 2017 World Minigolf Championships in Croatia from Wednesday 20th to Saturday 23rd September. 
A full preview of the international events will be published on the BMGA website shortly.
Last Updated ( Wednesday, 23 August 2017 18:23 )
Login
Who's Online
We have 20 guests online