| | | | |
| --- | --- | --- | --- |
| CEMGC's Mark Wood secures his maiden BMGA tour victory at his Club's Open in Essex | | | |
Saturday 19th August saw minigolfers from across all the BMGA Clubs take on the challenge of Dunton HIlls in the 2017 Cambridgeshire and Essex Open. After a hard fought and thrilling competition, congratulations went to Mark Wood for winning his first BMGA Tour event with victory at his home course in Essex in the 34-player field with a three-round total score of 130.

Dunton Hills is notoriously difficult being one of the toughest courses on the tour and Mark led the way after two rounds having shot 40 both times (the course record stands at 39). With the pressure mounting, Mark shot a total of 50 in round three to cling on for victory in his club's Open tournament.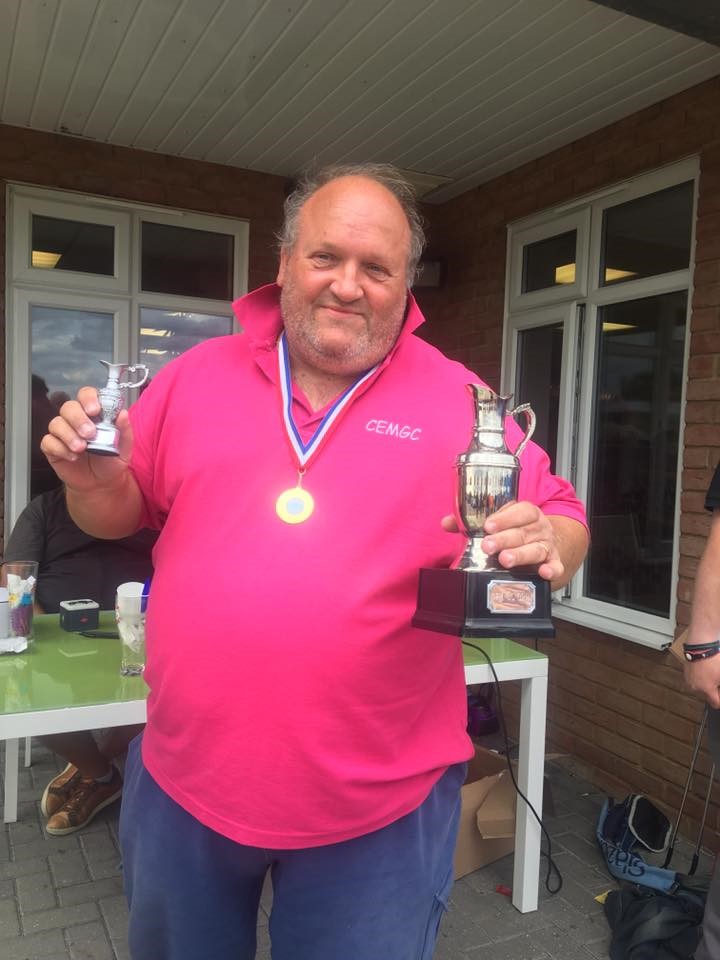 The 2017 CEMGC Open Champion Mark Wood
Steve Lovell (SWMGC) finished one shot behind to take the silver medal with a total score of 131. Sean Homer (KMGC) was two shots further back in third with a total score of 133.
Speaking following his victory, Mark said "I'm naturally delighted to have scraped over the winning line. Steve certainly put me under a lot of pressure which is a testament to his ability and fighting spirit. Being our home tournament, it was just as important for me that the CEMGC put on a good event and that everyone enjoyed themselves and had fun. I hope to see you all the CEMGC Open again next year."
There were a variety of other prizes on offer across the day too including multiple spot prizes for the first ace on each lane, a pairs event and a handicap competition in round two. Andy Wilde (CEMGC) won the aces event in a playoff with three aces, tied with Will Donnelly, Dave Donnelly and Scott Lancley. Mark Wood and Cindy Kukielka (MMGC) won the pairs competition, played in the first round, with a combined score of 89. Paul Johnson (KMGC) won the handicap competition in round two with a score of 47.
Full Results from the event can be found at http://www.bmga.co.uk/CEMGC2017/result.htm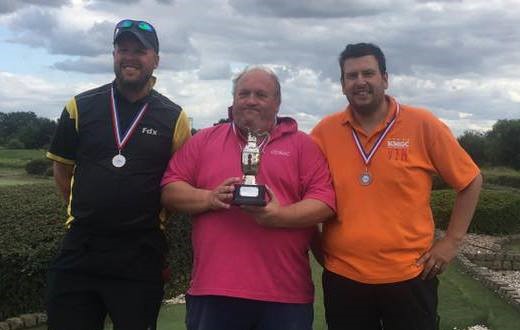 The 2017 CEMGC Open podium - Left to right: Steve Lovell (second), Mark Wood (first), Sean Homer (third).
A video clip of Mark playing his final hole on the way to victory can be seen at https://www.facebook.com/BMGAMinigolf/videos/1536212386402326/?hc_ref=ARSaNzKOtpTFjmnzyt4xCt4BGhhqdAoWItG-LcP_Sy5vxkkLMb2_2VzPNITjiPKPjCk&pnref=story
James Rutherford, Cambridgeshire and Essex Minigolf Club Captain, said "It was a pleasure as always to welcome everyone to the CEMGC Open. The tournament was played in a great spirit and it was lovely to see so many there. Congratulations of course to our very own Mark Wood for winning his first BMGA Tour event. We look forward to next year!"
CEMGC Open Hall of Fame:
2015- Michael Smith
2016- Michael Smith
2017- Mark Wood
The BMGA would like to thank James, Mark, all the CEMGC and Dunton Hills for once again allowing us to use their facilities in what proved to be another successful event. The next event on the BMGA tour will be Sussex WASPS Open on Sunday 3rd September in Peterborough. Full details can be found at http://www.minigolf.org.uk/joomla/index.php?option=com_eventlist&view=details&id=173&Itemid=56
Last Updated ( Tuesday, 22 August 2017 18:29 )
Login
Who's Online
We have 27 guests online