| | | | |
| --- | --- | --- | --- |
| Event Preview: Essex welcomes the BMGA tour as Dunton Hills are all set for a double-header weekend | | | |
The 2017 Cambridgeshire and Essex Minigolf Open and the 2017 BMGA British Doubles Championship is taking place at Dunton Hills in Essex this coming weekend over Saturday 19th and Sunday 20th August.
The third CEMGC Open will be teeing off at 10AM on Saturday ahead of three rounds of strokeplay. A new name will be on the trophy this year and the field will be wide open with many potential challengers for the title. Full results from the 2016 event can be found at http://www.bmga.co.uk/CEMGCO2016/result.htm
Latest updates regarding the tournament can be found at https://www.facebook.com/events/110712976161335/  
Current registration and results can be found here: http://www.bmga.co.uk/CEMGC2017/result.htm
The CEMGC are planning a live Facebook stream of the draw for the starting groups on Thursday (17th) to whet the appetite for the weekend's competition.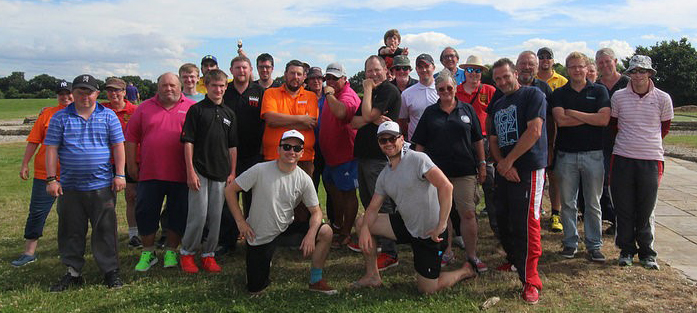 The 2016 CEMGC Open players ready for the tournament to start on the Saturday morning
The excitement continues on Sunday 20th August as the course will be hosting the 2017 BMGA British Doubles Championship. Once again there is guaranteed to be a new pairing on the trophy this year, with three former winners in the field (all in different pairings). There will be a maximum of 16 teams participating on the day for one of the much-coveted BMGA titles and one of two matchplay titles available on the tour.  
There is currently one team spot remaining so please enter quickly. All details about how to enter and the format of the day can be found at http://www.minigolf.org.uk/joomla/index.php?option=com_content&view=article&id=827:the-only-way-is-essex-as-the-british-doubles-championship-returns-to-the-tour&catid=1:latest-news&Itemid=105&Itemid=60
2017 will be the 10th time that the competition has been hosted, with this being the second time the event has been hosted at Dunton Hills.
BMGA British Doubles Championship Roll of Honour-
2006- Jon Angel and Keith Kellard

2007- John McIver and Tim Davies 

2008- Andy Exall and Trevor Exall 

2009- Jam Trubridge and John McIver 

2010- Chris Harding and Marc Chapman 

2011- Chris Harding and Marc Chapman 

2012- John McIver and Nick Chitty 

2014- Chris Harding and Michael Smith 

2016- Nuno Cunha and Steve Lovell
A breakdown of each of the Doubles pairings ahead of the weekend shall be posted on the BMGA Facebook (https://www.facebook.com/BMGAMinigolf/), Twitter (https://twitter.com/bmga_minigolf) and Instagram (https://twitter.com/bmga_minigolf) in the week leading up to the event. There will also be some live streaming of the competition on the BMGA Facebook page over the course of the weekend.
Last Updated ( Tuesday, 15 August 2017 20:56 )
Login
Who's Online
We have 29 guests online