| | | | |
| --- | --- | --- | --- |
| 2017 British Matchplay Championship Round 3 draw confirmed | | | |
Eight players to face off across four matches looking to make it into the semi finals
The draw for round 3 of the 2017 British Matchplay Championship took place on Saturday 10th June at Hastings. You can see the facebook live stream at https://www.facebook.com/BMGAMinigolf/videos/1464969490193283/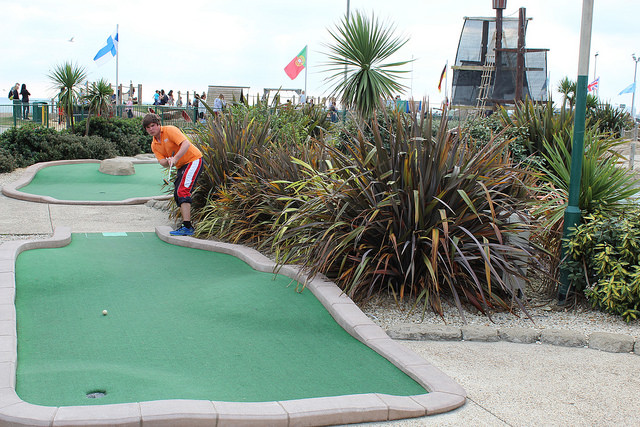 Adam Kelly on his way to winning the 2016 British Matchplay title
The ties are as follows:


1) Steve Lovell (SWMGC) beat Derek Bentall (SWMGC) 5&4 (Hastings 07.07)
2) Andy Wilde (CEMGC) withdraws - Will Donnelly (MMGC) moves through on a bye
3) Mark Wood (CEMGC) lost to Nuno Cunha (VMGC) 2&1 (Hastings 11.06)
4)  Andy Exall (KMGC) lost to Adam Kelly (KMGC) 5&3 (Hastings 07.07)

The deadlines for matches are as follows:

* Quarter finals - by end of day 11th June
* Semi Finals - by end of day 7th July

The final and third place play off will be contested over the weekend of the British Open (8th / 9th July).
After the match has been completed, the result (and any photos, etc) need to be emailed to This e-mail address is being protected from spambots. You need JavaScript enabled to view it
Results rom each match will then be published on the BMGA website.
Each subsequent round will see a draw take place to confirm the next wave of fixtures.

Last Updated ( Friday, 07 July 2017 20:16 )
Login
Who's Online
We have 27 guests online