| | | | |
| --- | --- | --- | --- |
| Lovell takes his maiden tour victory as he wins the Planet Hastings Crazy Golf Open | | | |
The Sussex Wasps Captain takes the title at the Hastings Seafront
40 players descended on the Hastings seafront on Sunday 12th March to take part in the first outdoor event of the BMGA season, the legendary Planet Hastings Crazy Golf Open, played out across the three seafront courses.
Steve Lovell (SWMGC) took the honours by four strokes from Sean Homer (KMGC) after a faultless final round of 29 on the Crazy Golf course. Paul Johnson (KMGC), Paul Preston (WMGC), Ruth Burke (MMGC) and Nuno Cunha (VMGC) tied in third place overall after the three round, 54 hole competition.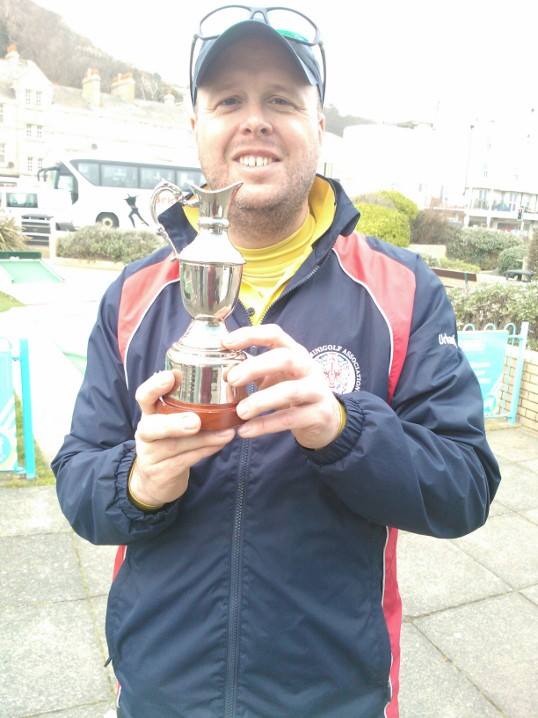 Steve with the Claret Jug after his victory (photo courtesy of Will Donnelly)
Speaking after his victory, Steve said "I feel incredibly humbled and proud to have become the latest winner of the Planet Hastings Crazy Golf Open. I'm not sure if I can recall a time were I have putted so well in a round before but to do it closing out a tournament was amazing. Thank you to Ted and all at Planet Hastings for such a fun day. Thank you to my playing partners, Paul, Brian, Terry and Sean. Thank you to the EC for the hard work they do. Thank you to the course for being so supportive to the overly large field. And finally, a huge thank you to my club mates at the Wasps. Four years ago, I had never even played minigolf and they've all believed in me and the efforts I made. I never expected any of this, I don't know when it will sink in."
The competition saw the top 18 players pick up prizes in the Big Top Ted Tombola - much to the amusement and excitement of all present at the closing presentations.
Hastings will see the tour return in June for the World Crazy Golf Championships and in July for the British Open (full details of both events will be published in the coming weeks) but next up on the BMGA tour is the British Masters in April at SplashPoint Minigolf Course in Worthing, the now traditional venue for this event.
Last Updated ( Monday, 13 March 2017 18:43 )
Login
Who's Online
We have 20 guests online