| | | | |
| --- | --- | --- | --- |
| Dublin to host its first Irish Open at Rainforest Adventure Golf in association with the WMF & BMGA | | | |
The weekend of 18th and 19th February sees the first World Minigolf Sport Federation (WMF) sanctioned competition taking place in Eire, at the indoor Rainforest Adventure Golf Course in Dundrum, Dublin. The 8 round, two day event will see players from across Europe descend on the course for what promises to be a terrific competition, all playing for the €1500 first prize and the title Irish Open champion.
As well as the overall title, there is also a dedicated tournament within the event for local players, with the top placed local picking up €350. The strokeplay event will tee off on Saturday 18th February at 10am and all players will play five rounds on day one and a further two rounds on day 2. The top 18 players will then progress through to the Super Final round, to compete for the title and the top placings.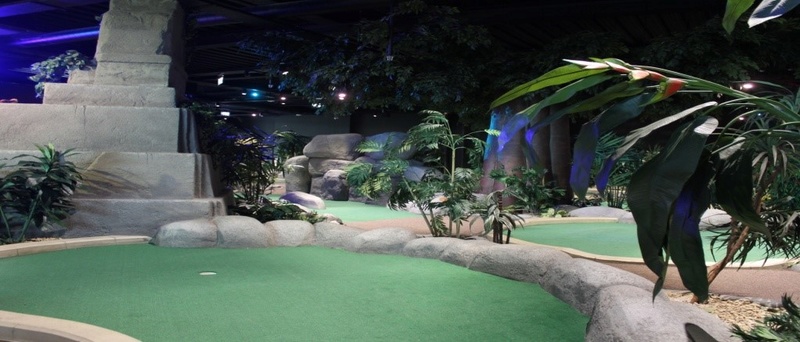 Entries for the competition are now open and registration and payment are to be made online only via https://www.eventbrite.ie/e/irish-minigolf-open-2017-registration-29403079402?aff=eac2 . The entry fees for international players is €40 and €20 for Irish players. The course have organised a special rate for a local hotel (NB prices listed are per night) within minutes from the venue and full details can be found in the official invitation.
Sean Homer, Chairman of the British Minigolf Association, and the Tournament Director for the event commented "I'm delighted to be able to help support the newly formed Irish Minigolf Association in their first International competition. Ross Ivers and the team at the course have been working tirelessly for several months to get this competition up and running and it's a testament to their commitment and hard work that they have put together such a fantastic event for the players to take part in. The course will provide a brilliant venue and challenge for all the players who take part and we will see some top class Minigolf over the weekend in February. I am sure that the generous prize fund and hospitality that Dublin has to offer will appeal to players from across Europe and that, along with a sizable field of local players adds up to what promises to be a superb weekend in Ireland."
Full details of the competition can be found on the WMF website and the official invitation is attached to this article.
The official website of the course can be found at http://www.rainforestadventuregolf.ie/
Please note that this is a WMF International competition and not part of the BMGA domestic tour calendar for 2017 - all BMGA players are encouraged to participate but there are no British Order Of Merit ranking points available for this unique event.
Last Updated ( Friday, 09 December 2016 09:16 )
Login
Who's Online
We have 21 guests online