| | | | |
| --- | --- | --- | --- |
| The BMGA tour prepares to move on to Treetop Adventure Golf in Cardiff for the Welsh Open | | | |
Sunday 16th October sees the BMGA Tour return to Wales for the eagerly awaited 2016 WELSH OPEN. 
The Open will be contested over three rounds of strokeplay on the ANCIENT EXPLORER course at the excellent TREETOP ADVENTURE GOLF CENTRE in Cardiff.
The three round event will tee off from 9am with the course open from 8am for practice (practice will end at 8.45am). The expected finishing time on the Sunday is 1.30pm.
As well as the overall Welsh Open title there is also a dedicated trophy for the top Local novice, who will be named the Treetop Open Champion at the end of the competition.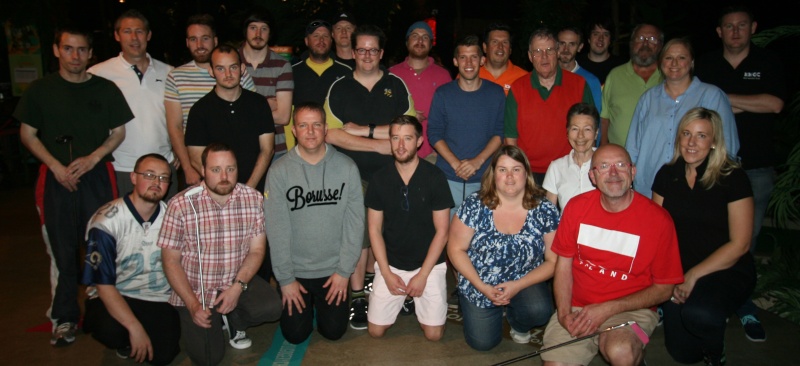 The players at the 2015 Welsh Open prepare for the first Welsh Open competition
A list of players entered will be online at http://bmga.co.uk/2016WO/result.htm (this will revert to the live results on the Sunday).
Following on from the success of 2015, the course are also offering an exclusive practice session for tournament competitors on the Saturday morning (8am to 1pm), with the tournament course closed to the general public for this session. 
The course are offering an excellent BMGA Tour Pro day rate of £10 (per person, per day) for unlimited play on the course on presentation of a valid 2016 Tour Pro Card. Players are reminded that they should always ensure that they let the courses customers play through when practicing to avoid holding up anyone on the course.
However before the serious business of the Open, the event will be officially launched with a welcome party on Friday 14th, where players taking part in the open will have the opportunity to relax at the course with free Minigolf, pizzas and the chance for a drink or two before the tournament tees off on the Sunday morning. The event will start from 6.30pm and any Tour Pros planning on attending the Friday evening need to contact the organisers at This e-mail address is being protected from spambots. You need JavaScript enabled to view it  by Wednesday 12th October at the latest.
Entries just £20 for Adults and £10 for Juniors and the entry form can be found at http://www.minigolf.org.uk/joomla/index.php?option=com_content&view=article&id=59:forms&catid=36:tournamentsforms&Itemid=56 (NB: The course are once again offering subsidised entry for Local players and they need to contact the course directly to register their entries for the competition).
A report from the 2015 event can be found at http://www.minigolf.org.uk/joomla/index.php?option=com_content&view=article&id=652:smith-achieves-the-triple-crown-as-he-adds-the-welsh-open-title-to-the-english-and-scottish-titles&catid=1:latest-news&Itemid=105
Last Updated ( Saturday, 24 September 2016 08:27 )
Login
Who's Online
We have 38 guests online