| | | | |
| --- | --- | --- | --- |
| Great Britain squad return from the Senior European Championships in Finland | | | |
Great Britain's minigolf team made history as they took part in the international Seniors (over 45) championship, the first time a GBR team has played in this event.
Sean Homer, captain of the GB team, and Adam Kelly, Head Coach for the squad, led a group of five players – Tony Kelly, Adrian Amey, Derek Bentall and Dave Donnelly - to Lahti in Finland for the final instalment of a three-year trilogy which has seen British players compete in the Youth World Championships and World Championships in the attractive Finnish lakeside town.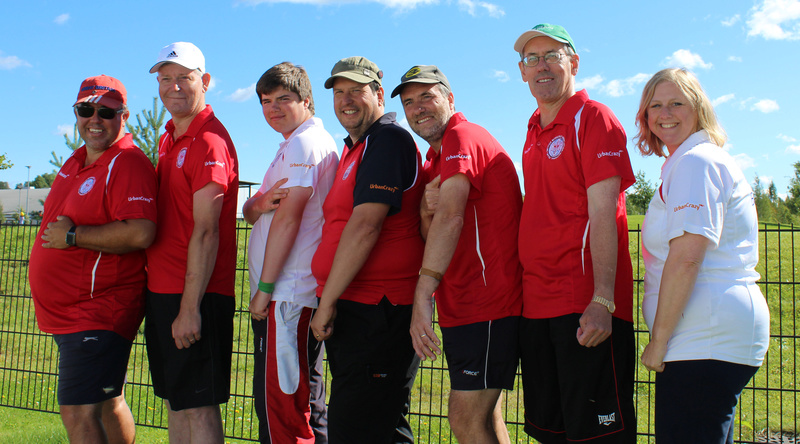 The Great Britain team (L-R) -  Adrian Amey, Derek Bentall, Adam Kelly (Coach), Sean Homer (capt), Tony Kelly, Dave Donnelly, Marion Homer (Chef De Mission)
Reflecting on the trip, Sean, Great Britain's most capped international player said "It's been an incredible journey over the past three years at the events in Lahti and I want to say a huge thank you to all of this squad for making this final adventure to Lahti such a terrific 10 days. Without a doubt this has been my favourite GBR trip to date - and this is all down to the fantastic bunch that made the trip this time around. It was great to see Derek and Dave making their International debuts alongside myself, Tony and Adrian and to see the progress everybody made on the courses. A special thanks of course to Adam, ably assisted by Marion, who did an incredible job with a bunch of old timers and you deserve a relaxing few days to enjoy your 21st before heading off to Portugal.. good luck to you and Adrian both on and off the courses in Vizela at the European Championships later in the month. And as always, a big shout out to Jon Angel and the team at UrbanCrazy for their continued sponsorship of the team kit – we always look outstanding and your support is hugely appreciated by myself and all the players who represent Great Britian. Prior to making the trip and having played in events across Europe over the past 8 years, I was contemplating this event being my last on the International stage. But the experience in Lahti has really got me enthused all over again and I genuinely hope I get the chance to line up alongside my Senior international team mates in the future for GBR - it would be my pleasure to lead us into battle again!"
Adam, after making his debut as a coach for the International team "It was a new experience for me to coach a team in an international championship, and one which I found very enjoyable and rewarding. It was fantastic to see how all of the GB players, and especially the debutants, embraced the atmosphere and the challenge of the Senior European Championships. The tournament was a success, with all five players showing improvement throughout the week and achieving a lot of targets. But perhaps the most positive outcome of the trip is the fact that everyone involved is eager for their next chance to represent Great Britain overseas."
Tony, another veteran of the international scene, having played in the last three World Championships in Sweden, Germany and Finland "This was my fifth overseas tournament with the GB minigolf team and it was my most enjoyable and successful to date. The team spirit and camaraderie within the squad were magnificent, helped by first-class coaching from Adam and support from Marion. From a personal point of view, this was my most satisfying performance in a GB shirt, as I achieved my aim of finishing in the top 50 and beat all of the individual players from Belgium and Russia. I put this down to the excellent coaching, my previous experience of playing in Lahti and the fact that I am developing the temperament to play on the technically and mentally demanding eternite and felt courses. There is nothing to beat the challenge of international competition for developing your minigolf skills and mental technique. I really enjoyed being part of GB's first ever seniors squad with a fine group of team mates and I hope that it will not be the last!"
Adrian, having played in his third international event of the summer "The trip was a pleasure in every respect. I had a great time watching colleagues flourish on the international stage and enjoy their venture . To have a great laugh in the process and to take on the courses and enjoy playing them even if at times there was despair and adulation in equal measures. I have now played felt, eternit and betton and must say this course was the most beautifully challenging of all. Bring on the next venture with my senior colleagues. We arrived as colleagues and left as friends."
Dave commented "This was my International debut and, from a playing perspective, I had an idea of what to expect as I had been to Lahti when my son Will played here 2 years ago. However, the courses themselves were a real test of our skill, accuracy and concentration – nothing at all like Worthing, Hastings or Margate! I was indebted to our Coach (Adam) who was able to plot all the lines, ball choice and ball preparation on the "Internet" particularly – his previous 2 years here were invaluable. It was a real "team game" as, from the outset, everybody was helping and encouraging each other to improve their scores and performance. Sean and Tony had also competed here before so their advice was also of real help to Adrian, Derek and myself. Our Assistant Coach (Marion) was always there supporting us as well, whether it was as camera crew, water bottle retriever, coat carrier. Whilst we were working together during the day, likewise "off course" as we all went out to a different place to eat practically every evening – it was really through this social side that we "bonded" as a unit and got to know one another better: "The Magnificent Seven"! I was really pleased to have been chosen to represent GB in this competition and thoroughly enjoyed the whole experience – I certainly hope that the "call" will come again and recommend it as a huge learning scenario."
Derek, also making his international debut "the whole trip was a blast and was beautifully summed up by Chef de Mission and Team Photographer Marion Homer on the flight back home 'we left as acquaintances and returned as friends'. Words cannot truly convey the experience I have had with the whole GB squad these past ten days with so many highlights to recall and remember long into my dotage. The playing highlight for me was undoubtedly my final round on Eternit on day two. As I finished the final lane, euphoric high-fives with Adam and a huge shout of ecstasy followed as I suddenly realised all the training was worth it. If I achieved nothing else on this trip then that round made it all worth while. For just one week's experience - a round of 25!! Aside from my 'wonder' round of course undoubtedly the highlight for me was being given the enormous honour of being chosen as GB flagbearer at the Opening Ceremony last Monday evening. When Sean told me I was completely gobsmacked - such a special moment and one I will treasure and cherish. I was literally close to tears as I entered the arena waving the Union Jack aloft. To my rookie room-mates - Adrian Amey and Dave Donnelly - we didn't know each other much before this trip but I cannot think of two nicer blokes to share such downtime together than you. Our Jolly Boys Outing was great fun! To the rest of the squad - Sean and Marion, Tony and Adam - thanks for being so supportive and friendly, it means so much to me. We have found out so much about each other these past ten days and shared such a memorable experience together. We are the chosen few and I feel mighty privileged and proud to have encountered such a great bunch of people as well as minigolfers - thank you all for such a great time. It was everything I had hoped for and so much more "
Results from the competition can be found here.
An extensive photo gallery of the teams trip to Lahti can be found here.
The next event on the International stage sees the GBR team take part in the General Class European Championships in Vizela, Portugal. Full details of this will appear on our website in the coming days.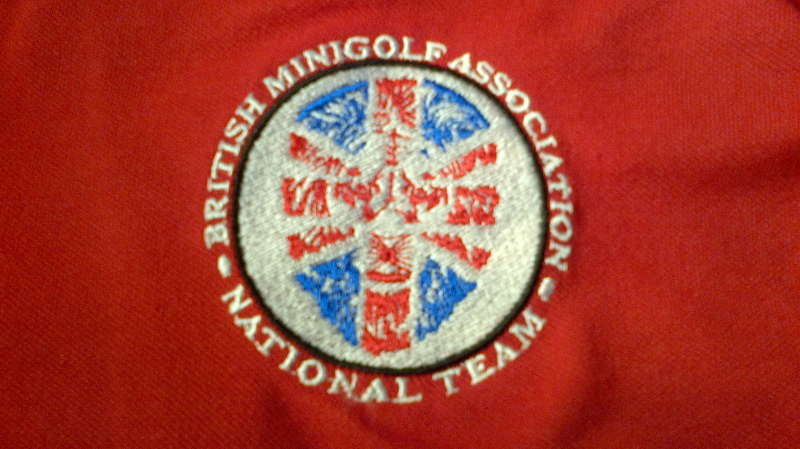 Last Updated ( Tuesday, 16 August 2016 19:20 )
Login
Who's Online
We have 27 guests online