| | | | |
| --- | --- | --- | --- |
| The Pride of Great Britain return from Pristina | | | |
Last week we reported on six intrepid Great Britain minigolf players making the journey to Pristina, Kosovo to participate in the 2016 World Adventure Golf Masters.
Team GB comprised of Captain Martin Greenhead, along with Steve Lovell, Mark Wood, Adrian Amey, Paul Preston and making his international debut, Andy Wilde. Assisted by Kelly Baston, team coach.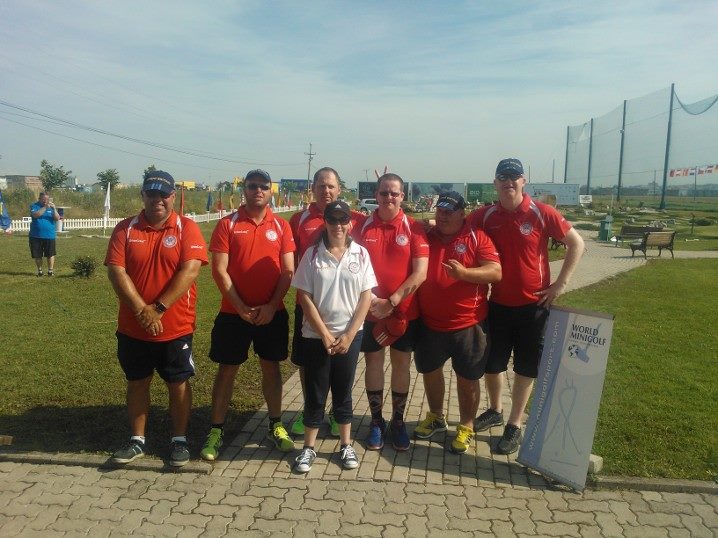 Commentary of this experience from Paul Preston……..
The opening ceremony was in downtown Pristina on Thursday evening with a parade of all competing nations with flags proudly flying high and the athletes following close behind. The reception we received from the local people was exceptional.
In conditions which can only be described as very hot, a preliminary round had to take place on Friday morning to determine whose scores would count towards the team event over the weekend tournament - the top four players would have the honour of going to the team event with the other two players going into the individual event.
With just three strokes separating first and last and all scores under 60, it was an amazing effort with Martin, Steve, Mark and Adrian providing the best four scores and becoming Team GB minigolf.
After some local thunderstorms and rain on Friday afternoon, The team regrouped to ensure that they were prepared as much as possible ahead of the five rounds of competition over the weekend. 62 players from 16 different nations were ready for the competition to start on Saturday morning. It was great to see players from as far afield as the United States and New Zealand taking part as well as new countries (Albania, Turkey) to the international scene.
It was Andy Wilde that had the honour of hitting the first competitive shot of the tournament. Andy's first round on the international stage finished with a 52 (one shot off the course record at the time) and was not only the clubhouse leader but set a benchmark for all the other competitors to follow.
It was clear after the first round that Saturday was going to be tough, with rounds taking around 2½ hrs to complete and temperatures in the mid 30's - mental toughness and ultimate concentration was key to achieving great scores. Added into the equation was a rain/thunderstorm delay so play was extended until 2000 local time.
By the time play had finished on the Saturday, 18 players had started Round 4 with a few groups still just halfway through Round 3. GB was lying in 7th place in the team event with Steve Lovell in the top18 and Mark Wood in 4th in the Senior category. 
Sunday's play began with still plenty to play for; eventually Steve Lovell qualified for the Top 18 with a consistent performance with all rounds under 60, finishing with an average over six rounds of 57.7.
While not matching his WAGM 2015 performance, he still had great words to say about the tournament;
"After an experience like Prishtina, it dawns upon you that life will never be the same again. Kosovo was mainly a trip into the unknown but if you come with an open mind, you will leave with a full heart. The people are young, vibrant and welcoming, all seemingly walking up and down the main street all night. Nothing can prepare you for the first sight of the course (and the roundabout that precedes it), it's a beast! We bonded really well as a team, some of the banter was just hilarious! I'm proud to say that I served alongside Adrian, Andy, Mark, Martin, Paul and of course Kelly. On a personal note, it was always going to be a battle to make the top 18 and to do it with a forty foot swinging putt was probably my standout moment. I have made so many friends from around the world this weekend, all because of minigolf. I know so many people that don't get why I do this but I know I would be lost without minigolf in my life."
Mark Wood put in a great effort and just missed out on a medal in the Senior category finishing 4th (20th overall) with an average of 57.8 over five rounds.
Martin Greenhead was just four strokes behind Mark but ended up 10th in the Seniors category which shows how close the scoring was (28th overall) with an average of 58.6 over five rounds.
Martin said on his experiences of the tournament; "The Kosovan Minigolf Federation put on a fantastic tournament, it was excellent to see so many nations taking part. The course was very challenging due to its length and complexity which made it interesting to play on. It was a real honour to play in the GB team with a squad putting in some very competitive scores."
Paul Preston finished level with the current US Masters Champion Matt Male, with an average of 59.8 over five rounds (35th= overall).
Paul said about his experiences, "It was an amazing tournament helped immensely with the Team GB spirit on a course that we have never seen the likes of before. I would like to thank the BMGA for the opportunity to represent Great Britain and UrbanCrazy for supplying the kit, it made us all feel part of a team. Kelly deserves a special mention for keeping us hydrated in the hot and humid conditions. I hope it is not the last time I visit Kosovo  - whether it is for minigolf or visiting, a special place!"
Andy Wilde finished with an average of 60.0 for the tournament (37th= overall) and finished above some well-known names in minigolf circles. His opening round of 52 turned heads in the field and this will hopefully stand him in good stead for future tournaments on the BMGA tour.
Andy added, "Proud to have made my GB debut, it was a real rollercoaster of a tournament. With myself, coach Kelly and Paul arriving with just two days to prepare thankfully my team mates had already done a lot of the hard work and shared all they had learned with us. Starting off with a round of 52 was a shock to everyone including me. I soon come back down to earth with a 67. After this I was able to settle down and put in a further 3 solid rounds. None of this would have been possible without the continuous support and help of coach Kelly who kept me hydrated in the high temperatures as well as calm under the pressures of being an international minigolfer. I really enjoyed the whole experience and hope to be selected again for a future international event. A big thank you to all my team mates as well as the Kosovo Minigolf association and the World Minigolf Federation for putting on the tournament."
Adrian Amey ended 16th in the Senior category (46th= overall) and performed admirably over the five rounds with an average of 61.6.
Adrian said, "Some great team fun, laughs and unity within team GB with help from Coach Kelly. A fabulous time, we met many friendly people. Kosovo is a beautiful country, a great experience! I believe all of us will have gained from this event, and friendships have been gained or nurtured! Team GB goes from strength to strength."
In the Team event, Team GB finished joint 7th with Belgium a mere 3.5 shots on average from the eventual winners Sweden, with Germany four shots behind in second and Kosovo 1 just nine shots away in third.
In the Mens category - Derice Shumilov Susoho from Sweden won on a sudden death play-off on Lane 3 over Daniel Vlcek from Czech Republic. Derice went on to win the Super Final by four strokes from Daniel in second and Liridon Mehmeti from Kosovo in third place.
In the Womens category, it was a Czech 1-2 with Veronika Vlckova winning comfortably from her compatriot, Katerina Oslejskova. And on her international debut for New Zealand, Jo Cook who lives in England picked up the bronze medal.
The Senior title was won by 71 year old Austrian, Karl Lakos with a 56.5 average. Swede, Anders Loennkvist finished runner-up just one shot behind the winner. Greg Newport from Team USA finished third.
A new Great Britain course record was set by Martin Greenhead, Andy Wilde and Paul Preston, who all shot rounds of 52. Will this ever be beaten?
The Pristina course asked many questions of the participants at every hole they played. The hardest lane was a triple dogleg (Lane 13), with a shot average of 6.02. Seven lanes did not have any aces at all! All but five lanes, did not have a single 7 score all weekend.
In summary, it was an amazing trip, an amazing experience, full of wonderful friendly people both playing, organising - it will last long in the memory.
Ne falënderojmë Kosovën.
For final results click here
For further posts from the GB WAGM adventure click here
Next domestic event: Cambridge & Essex Open and BMGA Doubles Championship at Dunton Hills, Essex.
Created by Paul Preston, edited by Scott Lancley, Executive Committee.
Last Updated ( Friday, 01 July 2016 18:42 )
Login
Who's Online
We have 24 guests online