| | | | |
| --- | --- | --- | --- |
| The British Lions boldly go to master a new Adventure in Kosovo | | | |
This week the Great Britain Minigolf team make a 3200 mile round trip to participate in the (WMF) World Adventure Golf Masters in Prishtina, Kosovo. The event takes place on a minigolf open standard (MOS) course in which one of the holes is a par 5!
Practise on the course takes place over the next few days with the 5/6 round tournament taking place during this weekend, 25-26 June.
GB have sent out a 6 man team in which 4 players will eventually be selected to participate in the team event and the other 2 will continue throughout the weekend in the individual classes.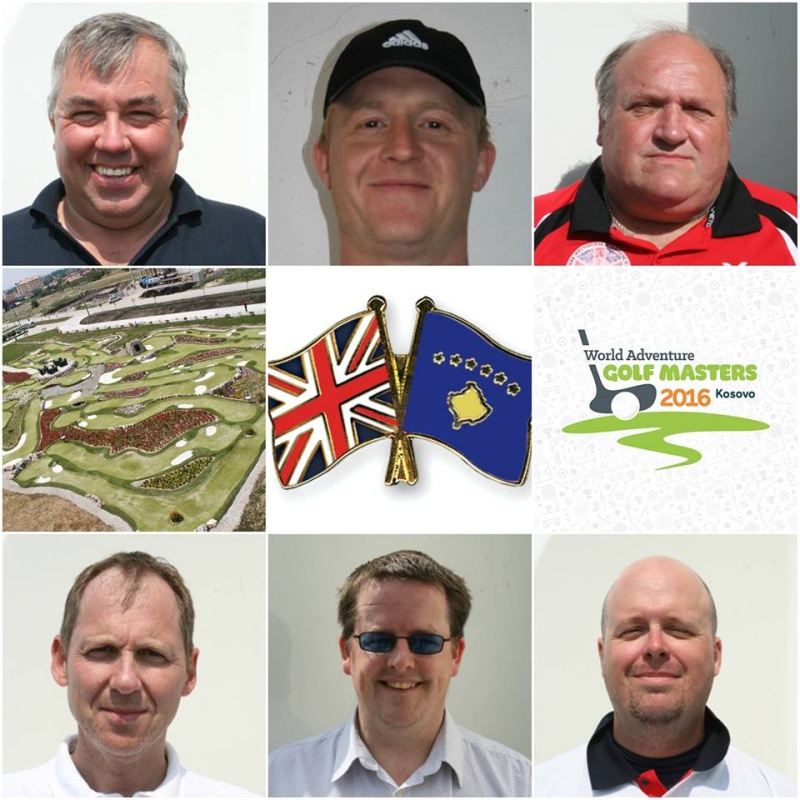 Before flying out last Sunday, we caught up with  Martin Greenhead ,GB Captain for the WAGM (bottom left) from the Kent Minigolf Club, to ask him a couple of questions…
Firstly Martin, congratulations on being picked to represent Great Britain mini-golf in this event, as team captain could you introduce your team?
All 6 members of the team are relatively new to the BMGA tour, all joining from 2012 onwards, but already most of us have been fortunate to represent Great Britain overseas. Mark Wood (top right) and Adrian Amey (top left), were with me in Gothenburg, Sweden for the 2014 WAGM so we have experience of how the event runs (and how draining it is.) Paul Preston (bottom middle) and Steve Lovell (bottom right) were in Portugal recently with Adrian so they have had a taste of how competitive international events are. Andy Wilde (middle right) will be making his oversea debut but has had two great seasons on the BMGA tour, last year's BMGA Shield winner, so will be a strong contender.
From the picture that we have seen of the course, do you think the team will have a good chance of competing well in this event?
The course is very similar to the courses in the UK so it really suits us. We found in Sweden that we could compete and get respectable placings and I believe this will happen in Kosovo. British teams sometimes struggle due to the unfamiliar types of course we play in WMF events compared to other European teams – we should have a slight advantage.
Do you think you will use many mini-golf balls or instead use the conventional WMF approved golf ball?
The holes are generally long, very long, so a golf ball is the key ball. This will suit the Kosovo and USA team who play with a golf ball regularly. We're taking a small selection of other balls but expect to use 3 or 4 mini-golf balls at most. Our most recent event the World Crazy Golf Championship was a golf ball event so we've had lots of practise.
What do you expect from this experience?
Not many people can say they have been to Kosovo; it is a very young country. It is going to be an incredible experience, we have had a lot of support from the organisers, especially Lavdim, and so we expect it to be a tournament we will never forget. The temperature will be around the 30C mark so it will be quite tiring. It is a Muslim country so it will be interesting to be there during Ramadan.
It'll be the first event in a long while that USA while be sending a team, do you think they will be a close rival?
In fact as well as the USA team there will be New Zealand representatives too, so it is a truly global event. If we play as well as we know we can then we could challenge any of the teams. Kosovo clearly have the advantage but, Sweden are a good tip.  
Finally, is there anything else you'd like to add?
If you see rounds over 60 it is because the course is long! (Usually we'd be looking at sub 36 rounds in mini-golf events)
Also, it is great for the team to get messages of support on the BMGA Facebook site. We hope everyone follows the scores throughout the weekend and we'll try to post photos from 21st June onwards once we arrive there.
Follow the progress of our Great Britain players at the WAGM at http://www.kosovominigolf.com/sq/live-streaming/

Sean Homer, Chairman of the BMGA added "It's great for the development of the event that this year sees it being hosted in Kosovo. The venue and the course look fantastic and it promises to be a real challenge for our lads and they will no doubt rise to the challenge and do us proud over the weekend. With the new location and style of course, this year's WAGM provides a great opportunity for our players to once again experience being part of a unique international event overseas. I would also like to wish Lavdim and all the organising team at the course in Pristina all the best for what promises to be a great competition. And lastly, on behalf on myself and all of the Great Britain players this year, I would like to say a massive thank-you to Jon Angel and all the crew at UrbanCrazy (http://urbancrazy.com/) for their continued support and sponsorship of the Great Britain team kit in 2016. Our players always look outstanding in their red, white and blue and we look forward to celebrating our combined success this season."  
You can check out the following links to see how our Great Britain Minigolf team get on this weekend….. 
Interviewer: Scott Lancley, BMGA Executive Committee
Last Updated ( Friday, 24 June 2016 18:23 )
Login
Who's Online
We have 17 guests online