| | | | |
| --- | --- | --- | --- |
| British Lions return from Portugal with Pride | | | |
As reported last week, Adrian Amey, Steve Lovell and Paul Preston travelled to Vizela, Portugal to represent Great Britain Minigolf at the 2016 Nations Cup.
This is no competition for the faint hearted! You have 2-3 days practice on courses that are alien to the regular BMGA tour pro let alone the ordinary joe who plays crazy/mini-golf at the many venues in the UK. So, to play 6 rounds, 108 holes (or lanes as we call them) on the first day of the competition, and a further 2 rounds the next day, these three guys have well and truly earned the shirt they wore on their backs.
Practice for the gentlemen had gone well even though they were held up on a few occasions by a spot of rain! Thanks to a local by the name of Toni, lines were discovered and Aces (holes-in-one) became the norm as they got familiar with the Beton (cement) and Eternit (cement- fibre) courses.
On to the competition, Paul began his first ever international round with of 36 on Eternit and would set a personal best 30 on the same course later in that day. Steve showed great consistency throughout the day on Beton course, scoring 3 rounds of 37. By the end of the day Adrian was Top Brit with a 4 shot lead over Paul after scoring two good rounds on Beton, a 33 and 34.
During the second day the three of them made 33 Aces with Adrian finishing and keeping the spot of Top Brit by 4 strokes from Paul.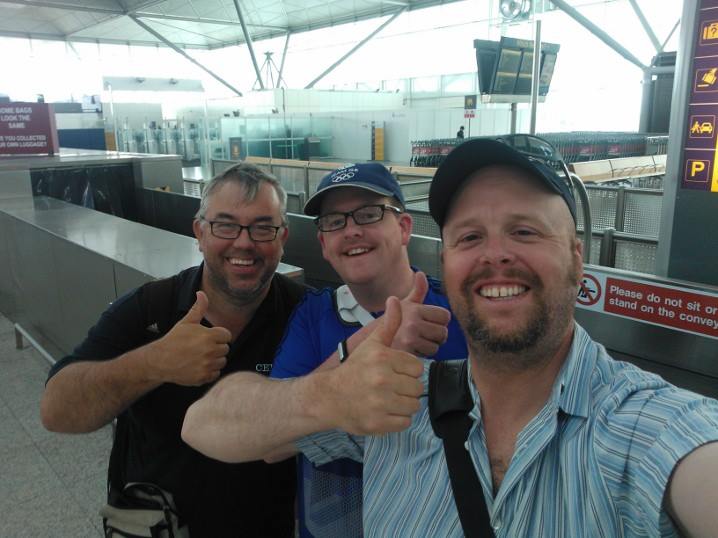 2016 Nations Cup players Adrian Amey, Paul Preston and Steve Lovell return home after their Portuguese adventure

We caught up with Steve, Paul and Adrian and this is what they had to say:
Steve: "The Nations Cup has been an incredible adventure. The weather could have been better, I could have played better, but we were so well looked after by the organizers at every stage of the event. The ovation we got at the closing ceremony will stay with us all forever. It is something I am glad I did, and hopefully in the long run I will become a better player for the experience. I hope one day to return and meet again the wonderful, welcoming people of Vizela."
Paul: "An absolute adventure from start to finish! With great teammates supporting me on my debut, it was a steep learning curve as already mentioned. To achieve six Aces in a row on Enternit, far surpassed my expectations and something I have never achieved on the BMGA tour. The great camaraderie with the fellow competitors and officials, and most importantly the warmth of the Portuguese people especially those involved with Vizelagolfe. I hope I did not disappoint the EC with my performance and want this to be the first of many appearances for GB minigolf. Thank you for the reception we received at the closing ceremony as it was something I will never forget. We hope we have forged new relationships that will last forever, and that we will of provided the GB team traveling out in August, invaluable information to help them close the gap on our minigolf friends in continental Europe."
Adrian: "An incredible venture and memory to behold. The courses were superb, the Beton was a delight to play, the Eternit was an enticing menace, not quite mastered on this occasion but left me hungry enough to want to take it on in the future. I have made more friends in this one outing than any other venture that I can think of in my life. Proud to have been wearing the shirt when showing team Great Britain Minigolf in such great light. I just wish I was going back in August!"
Sean Homer, chairman of the BMGA added: "The Nations Cup is a great event to take part in and really has a unique atmosphere which Paul, Adrian and Steve all clearly relished. They have really done the Great Britain team and the BMGA proud and we all enjoyed watching their progress from back in the UK as they took on the challenging courses over the weekend. I am sure they will all be regulars in the Great Britain International squad over the coming seasons and above all I am delighted that they all had such a good experience in Vizela. Welcome home chaps!"
The Team competition was won by Sweden in an exciting sudden death win over World Champions Germany.
Sweden's Fredrick Person, and Germany's Melanie Hammerschmidt taking the men's and women's individual titles.
Full results from the event can be found at http://www.psvsteyr.at/MINIGOLF/2016-05-11_NC2016_VIZELA/result.htm
The next international event for Great Britain Minigolf will be in June, when we send a full team to compete in the World Adventure Golf Masters, in Kosovo.
Interviews by Scott Lancley
Last Updated ( Wednesday, 18 May 2016 17:31 )
Login
Who's Online
We have 45 guests online