| | | | |
| --- | --- | --- | --- |
| The British Lions are all set for their Nations Cup Adventure in Portugal | | | |
British Lions ready to roar in Portugal...
After the excitement of the first BMGA Major for this year, attention turns to competition on the international stage. The Nations Cup, the warm-up to this year's European Championship, will be held in Vizela, Portugal May 14 - 15.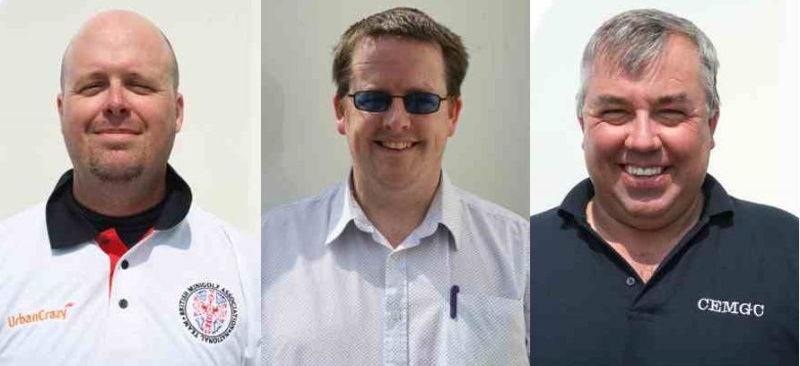 2016 Nations Cup players Steve Lovell, Paul Preston and Adrian Amey are all ready for their trip



Before leaving for the competition we caught up our three Great Britain Minigolf representatives;
Adrian Amey
of Cambridge and Essex Minigolf,
Paul Preston
and
Steve Lovell
both of Sussex Wasps Minigolf.
Firstly, congratulations on being picked to be a part of the 2016 Great Britain Minigolf squad, what were you initial reactions when first approached?
Adrian: "I have played many different sports in the past but this is the best game in the world! So, to be able to compete against the world's finest is an honour."
Paul: "Very surprised at first, but it soon turned to immense pride and joy. I didn't think I was going to be picked but the EC must see my potential and I thank them for the opportunity."
Steve: "It was a great email to receive, I got a tingle down the back of my neck. I told my family and friends and cracked open a bottle of wine. Course, this opportunity would not be possible without having supportive employers, so I'd like to thank them for giving me the time off."
Paul and Steve, this is your first tournament in mainland Europe, what would you like to get from this experience?
Paul: "Competitively yes! It will be my first experience of Beton and Minature systems. I have played minigolf on the continent when on holiday, but it was way before I was a regular participant on the BMGA tour. Experience wise, playing with fellow competitors, learning from them and coming back a better player which will stand me in good stead from a personal perspective. My target for personal bests will be to finish under par and come away from the event feeling as though I had pushed my bar of expectation higher."
Steve: "Although having experienced the 2015 WAGM, I feel the experience of playing in Vizela will be so much more! I have played Beton, but I was too young to recall in terms of pace and line of my strokes compared to playing the courses here in the UK. All three of us hope we can gain information and lines which will help the rest of the Great Britain squad when they return in August."
Adrian, what systems have you played in mainland Europe?
Adrian: "I've played on Beton and Minature so I will be aiming to improve on my personal best of 27, and in general just improving on my consistency during the rounds. I'm sure with my past experiences I can help Paul and Steve throughout practice and the event."
Finally, what will it mean for you to play wearing the Great Britain shirt on your back?
Adrian: "I'm very patriotic, so by pulling on the GB shirt it means 'Let the competitive battle and fun commence!"  
Paul: "It'll mean the world to me – It is an honour to wear the red, white and blue, representing your country."
Steve: "It's everything. Up until finding minigolf 3yrs ago, I never thought I would ever represent Great Britain in any particular sport. It feels different when you play in your countries colours. When all is said and done, I can look back and say 'I did that!"
Sean Homer chairman of the BMGA added: "I am really pleased that Great Britain will be represented at the Nations Cup by Steve, Paul and Adrian. The group has a nice mix of experience and all three have a real passion for Mini-golf sport. I know they will put on a great show when the tournament tees-off at the weekend. Everyone involved in the BMGA wish them well and I have no doubt that they will do us proud. Above all I hope they thoroughly enjoy the opportunity and experience of playing in such a unique event and look forward to following their progress once the competition gets underway."    
To follow their progress throughout the event, keep an eye on the official Nations Cup website http://vizelaminigolfopen2016.com/en/news/nations-cup/
Or posts on BMGA Facebook site https://www.facebook.com/BMGAMinigolf/
And look out for a future diary of their experience that the three have promised once they return.
Good luck to Adrian, Paul and Steve.
Interviewer: Scott Lancley
Last Updated ( Friday, 13 May 2016 14:22 )
Login
Who's Online
We have 29 guests online