| | | | |
| --- | --- | --- | --- |
| The First Major of the 2016 BMGA tour - The British Championships - returns to Wroxham Barns in May | | | |
It's a Hole in One … 

Wroxham Barns is proud to once again play host to the British Minigolf Association, with the 2016 British Championships taking place over the weekend of 7th and 8th May, attracting top ranking UK players from the world of Minigolf as they compete to become the new British Champion as well as crowning the British Youth, Woman and Senior Champions.  Although visitors won't be able to play the course during the weekend while the Championships are taking place, they will be welcome to come along and watch to catch some of the action taking place on the 18 hole Championship course.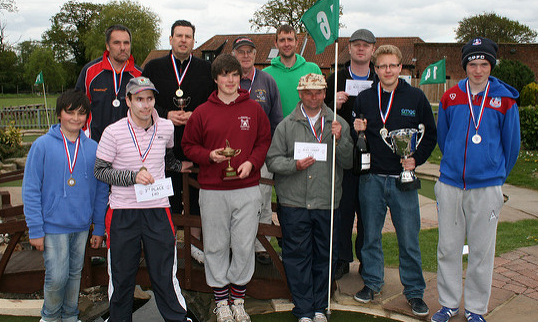 The prize winners from the 2013 British Championships, held at Wroxham Barns
Entry fees for the competition, the first Major of the season are as follows:
£25 for Tour Pros
£30 for Non Tour Pros
£15 for Juniors.
The event will tee off from 10.30am on the Saturday and will consist of 7 rounds for all players to decide the National Championships across all the classes (provided there are sufficient players in each class). All players will play 4 rounds on the Saturday and 3 on the Sunday.
The course are offering a £10 day rate for all players on the production of a valid 2016 BMGA Tour Pro card.
The entry form can be found at http://www.minigolf.org.uk/joomla/index.php?option=com_content&view=article&id=59:forms&catid=36:tournamentsforms&Itemid=56
A list of entrants (and results when the tournament starts) will appear at the following link shortly http://bmga.co.uk/2016BC/result.htm
This exciting national competition will be preceded on the evening of Friday 6th May by a charity ProAm evening run by the BMGA and the players to raise funds for Macmillan Cancer Support offering a great opportunity to play a round of minigolf with some of the leading players in the country and get insider knowledge from the best of the best on how to play each of the 18 holes on the course to impress family and friends. Teams of 3 amateurs and one BMGA player will play a round under BMGA rules with instruction from their professional followed by a buffet meal and the chance to relax and chat with the players.  Each team will pay £100 for the evening and are asked to seek additional sponsorship to help raise funds for this very worthwhile cause.   Players don't need to be an experienced golfer to take part and can bring along spectators to cheer them on as well as purchase additional guest tickets for the post-match buffet.  Details are on the Wroxham Barns website, together with an application and sponsorship form or contact Wroxham Barns on 01603 783762 e-mail This e-mail address is being protected from spambots. You need JavaScript enabled to view it . 

Ian Russell, owner of the popular visitor attraction at Wroxham Barns, said "We're delighted to host the BMGA British Championships at Wroxham Barns and look forward to a great weekend seeing some of the best British Minigolfers in action on the course.  Plus of course we hope to raise lots of money for Macmillan Cancer Support with a full-house of teams for our Pro-Am evening which should be a lot of fun". 
Sean Homer, Chairman of the BMGA said "It's great to be coming back to Wroxham Barns for our National Championships. The course is a terrific challenge, worthy of the event and the hospitality we receive is always second to none. The Pro-Am provides a perfect curtain raiser to the main event and I look forward to what will be a fantastic fun evening at the Barns."
Any Tour Pro player wishing to take part in the pro-am needs to contact Sean on This e-mail address is being protected from spambots. You need JavaScript enabled to view it ASAP.
Your support of the event is greatly appreciated by both the BMGA, Wroxham Barns and Macmillan Cancer Support.
Exciting news regarding the second Major of the year, the World Cray Golf Championships, will be released on the BMGA website in the coming days....
Last Updated ( Wednesday, 27 April 2016 17:37 )
Login
Who's Online
We have 21 guests online