| | | | |
| --- | --- | --- | --- |
| Final Call for the 2016 Great Britain International minigolf teams | | | |
INTERNATIONAL COMPETITIONS
As well as the terrific domestic events taking place, 2016 will once again see the Great Britain Minigolf squad competing at the highest level against the best players and teams in the world at the following competitions:
May 14th/15th - Nations Cup (Portugal)
June 25th/26th – World Adventure Golf Masters (Kosovo)
August 10th/13th – Youth World Championships (Austria)
August 10th/13th – Seniors European Championships (Finland)
August 24th/27th – General Class European Championships (Portugal)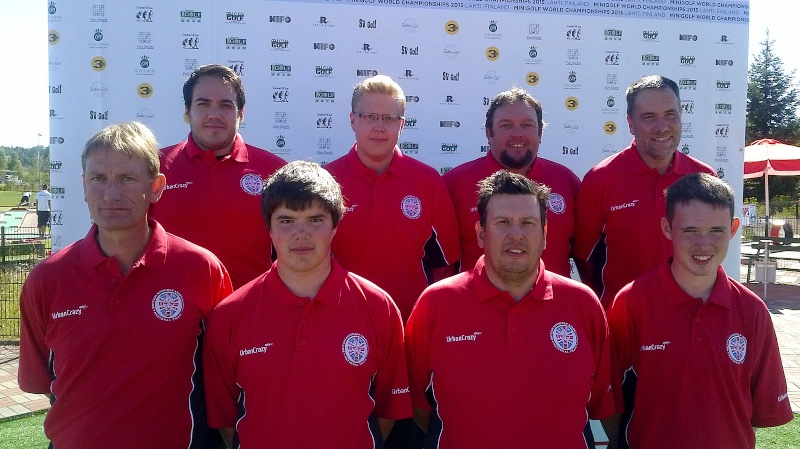 The British Team at the 2015 World Championships in Lahti, Finland
Back Row (L-R) - Chris Wood, James Rutherford, Scott Lancley, Tony Kelly. Front Row (L-R) Chris Harding, Adam Kelly, Sean Homer, Will Donnelly
To ensure that we get a clear picture of who would like to represent Great Britain at these events, a Survey has been set up to collate all the relevant information. The survey, along with details of the events and an overview of the selection criteria can be found at https://www.surveymonkey.com/r/VVYJZDN
The survey will close on Thursday 7th January. Any player wishing to be considered for the Great Britain squad for the 2016 season must ensure they complete the survey by this date. NB: Players must be a 2016 tour pro to be eligible to play in the events this year but can register their intent prior to taking out their 2016 Membership.
The Executive Committee will review all the survey results in January and will be selecting the teams for 2016 at the end of January. The information will then be communicated to the players accordingly.
Last Updated ( Tuesday, 05 January 2016 12:03 )
Login
Who's Online
We have 25 guests online