| | | | |
| --- | --- | --- | --- |
| 2015 World Crazy Golf Championship Rules overview | | | |
Format:
1. The World Crazy Golf Championship (WCGC) is played over 126 holes. The winner is the player with the lowest aggregate stroke play total. In the event of a tie for 1st place (also for other places if there is prize money at stake), a sudden death play-off will be held. This begins on the first hole, and continues until the players can be separated. All players take part in rounds 1 to 6 inclusive - the top 18 only qualify for the final round (any players tied in 18th place will take part in a sudden-death play off to decide the final participants for round 7.
Equipment:
2. Players may use either their own putter or else those loaned by the course.
3. Players may only use The Official ball of the 2015 event (as supplied by the organisers at the course from Friday 23rd October).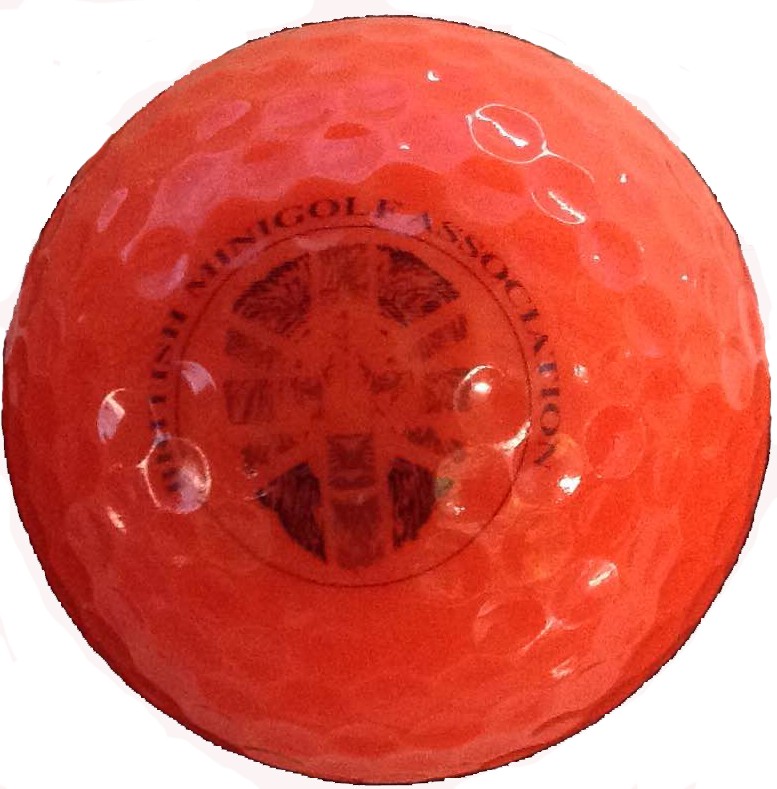 Safety:
4. Players must at all times exercise due care, responsibility and caution as not to injure themselves or other persons.
5. For safety reasons, spectators and other players (including the scorer) in a group must stand at least 2 metres or 6½ feet away from the player making his/her shot.
6. Players must not perform any act of a reckless or dangerous nature. The following are examples of acts that may be considered to be of a reckless or dangerous nature:
· Making a full swing of the club above shoulder height in an uncontrolled way
· Throwing of clubs or balls
· Intentionally hitting obstacles with clubs; or otherwise intentionally causing damage to the course or surrounding property
· Inappropriate or loutish behaviour (e.g., pushing people near a fairway)
7. When a player is addressing the ball in readiness to play, or in the process of playing a shot, all other players in the group (including the scorer), players from other groups in close proximity to or walking past the player in question, and all spectators must remain stationary until the player in question has completed his/her shot.
8. Players disregarding the above Safety rules risk being disqualified from an event and/or having their membership revoked.
DISCLAIMER: The BMGA accepts no liability for injuries sustained or accidents occurring at or during a BMGA associated tournament or event.
Scoring:
9. No player is allowed to keep his or her own score. The last named player on the score-card should keep score for the first, the first for the second, the second for the third and so on.
10. Explanation: In a group of three players, player 3 is given the score-card to begin with. Player 1 plays the first hole and player 3 notes down his/her score (having first announced the entry). Player 3 then gives the score-card to player 1, who should check that the entry is correct. Player 1 notes the score for player 2, who should then check his own score before noting the score for player 3. Only when player 3 has received the score-card and checked his score can the group progress to the next hole.
11. The total for each hole must be marked in the appropriate space on the card immediately after the player holes out.
12. Incorrect entries should be crossed out in such a way that they remain legible, and the correct score should be written next to it and initialled. Changes to recorded scores can no longer be made if a subsequent score has already been entered for the player concerned.
13. At the end of a round, each player should work out both his/her own score for the round and that of his/her playing partners. Players should sign for their own score. Any player failing to sign for their score, or signing for an incorrectly totalled score may be disqualified.
General:
14a.
For Rounds 1 - 6 inclusive only when Player 1 has holed out and been handed the score-card (with his/her score already entered) is Player 2 allowed to take his/her first stroke. Two balls may not be in play at a given hole at the same time.
14b. For Round 7 only players teeoff in turn (i.e. all balls in play). After all first shots have been played, the player furthest away from the hole then plays their next shot. This continues until all players have holed out (or failed to hole out in 6 shots). Each of the final 6 groups will have a specific scorer designated to their group..
15. A player is deemed ready to play when, in addressing the ball, he begins his back-swing. Any movement of the club back and forward after this counts as readiness to play. Unintentional contact with the ball in the absence of clear readiness to play does not count as a stroke.
16. Unless otherwise announced by the tournament organisers, players have 45 seconds to play their first shot and 30 seconds so each subsequent shot. (For the first shot, the time begins when the previous player has left the playing area.) Delaying playing a shot over 45 seconds (e.g., because of gusting wind or loudspeaker announcements) is not allowed. Players exceeding the time limit may be warned for slow play; and will receive a one-shot penalty if they receive two warnings in the same competition.
17. Each stroke counts as a point. If the ball has not been holed after six strokes, another point is added. The highest possible score at any hole is 7.
18. The first stroke at each hole must be played from within the teeing-off area.
19. If a ball comes to rest outside the playing area (out of bounds), then the player must reposition the ball (only by hand) up to 20cm or 8 inches from the point it left the playing area at no penalty.. The initial stroke must be included in the player's score for that hole, but no additional penalty is incurred. Special rules may apply at particular courses.
20. If a ball comes to rest inside an obstacle construction such that it is unplayable, it must be repositioned outside the obstacle in the direction from which it came. (No penalty shall be incurred.)
21. If a ball comes to rest alongside or near to the perimeter boundary of a run, or to an obstacle, plateau slope or immovable obstruction, it can be repositioned (only by hand) up to 20cm or 8 inches from it at no penalty. (As a guide, 8 inches is a little less than the width of a standard BMGA event score-card - A5.) Repositioning is to allow the player a proper back-swing and/or follow through. A ball must not be repositioned other than at 90 degrees to the obstruction in order to provide a direct line of sight to the hole if one did not exist from where the ball originally came to rest.
22. Players may remove debris (e.g., leaves) from the intended path of their ball before taking a shot.
23. A ball is deemed to have been holed when it comes to rest in the cup. If a ball enters the cup and then rebounds out again, it is deemed not to have been successfully holed.
24. It is not permitted to take practice strokes or to roll the ball on the greens. Exception: at the start of each new round of a tournament, players are allowed one practice putt on the hole at which they begin their round (this will always be hole 1). This (optional) practice shot cannot be counted as or towards the player's score for that hole.
25. No smoking or consumption of alcohol is allowed on the course. Mobile phones must be switched off.
26. A player who causes damage to a minigolf course, equipment or property when participating in an event may himself/herself be held responsible for the damage caused. The BMGA and/or its affiliated clubs will accept no liability for damage to minigolf courses, equipment or property that may be caused by individual players participating in an event.
27. Any questions regarding interpretation of the rules should be addressed to the Tournament organisers.
28. The decisions of the Tournament organisers are final and no discussion will be entered into.
Last Updated ( Sunday, 18 October 2015 17:09 )
Login
Who's Online
We have 12 guests online