| | | | |
| --- | --- | --- | --- |
| 2015 British Open Preview: Strokes in Margate takes centre stage as the Open returns to Kent | | | |
With just 3 days to go until the British Open tees off in Margate, excitement is mounting and social media is buzzing with speculation. Can Michael Smith make it four in a row and equal Tim Davies's record of winning eight majors? Will Adam Kelly be able to mount a serious challenge for the title? Could we have our first overseas winner for 5 years? How will the players cope with the fiendishly challenging seafront course? And Wasps captain Steve 'Sheila' Lovell can certainly talk a good game, but can he deliver on the big stage?
Michael Smith, the British champion and British number one, will certainly start as favourite. He is unbeaten in the British Open since 2011 and his famous final-hole missed putt at Sidcup. With talk of a possible retirement at the end of the season, he is keen to write his place in the history books by becoming the most successful BMGA player of all time – but with a degree at Leicester University starting this month, will he be able to focus on victory or will he be distracted by the dubious delights of Freshers Week?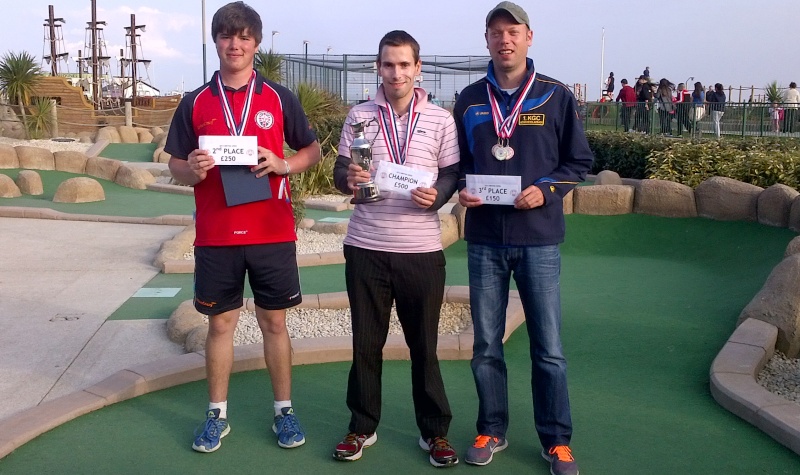 The Top 3 players from the 2014 British Open (from L to R) - Adam Kelly, Michael Smith and Christian Kemler
Adam Kelly, who is also returning from university for the tournament, is the man to beat at Strokes, which is hosting the event for a record sixth time. Adam holds the course record of 27, which he set in the last British Open at Strokes in 2013, and also won the last major to be held there, the British Championship of 2014. He recently just missed out on a top 50 place in the World Championships in Finland and is desperate to add to his single career major to date. Not to mention picking up the £500 first prize to supplement his student loan. 
Michael and Adam are among four players to have achieved a sub-30 round in tournament play at Strokes, a feat which was considered impossible just a few years ago. Both of the others are also taking part – BMGA Chairman Sean Homer and popular Swedish player Jan Hedström, who managed a top 10 finish two years ago. In total, there are 37 players from 6 different countries, including British Open regular and 2006 champion Karsten Hein from Germany, British Masters champion Nuno Cunha from Portugal, and 3 players from the Czech Republic.
Zviad Tomaradze will be making a return to the British Open for Georgia having played in the 2002 event. All eyes will be on the first tee at 9am on Saturday as defending champion Michael Smith leads out the opening group with Zviad and Adrian Amey.
Michael and Adam may be the favourites but there are plenty of other domestic challengers. Members of the Great Britain team from the World Championships will be there, and Tony Kelly, Sean Homer, Chris Wood, Will Donnelly, Scott Lancley and coach Chris Harding will all be hoping to build on their performances in Lahti. Will also faces a challenge from Midlands team-mate Owen Johnson for the British Junior Championship, held for the last 5 years by Adam Kelly.
The weekend will also see the Players and International Players Championships on the Friday, with the winner getting to nominate a charity for the proceeds of this year's Hole-in-One challenge, another instalment of which will take place over the weekend.
And there is added spice by the prospect of four intriguing British Matchplay Championship quarter-finals on the Saturday afternoon, each one potentially featuring club colleagues up against each other – Michael Smith v Chris Harding (Midlands), Steve Lovell v Nuno Cunha (Wasps), Sean Homer v Martin Greenhead (Kent) and Adam Kelly or John McIver v Tony Kelly (depending on the result of a second round match on Friday). It could be a long journey back to Cambridge on Sunday night if Adam has won the British Open and knocked Tony out of the matchplay...
A view from the players lounge with local Margate player, Scott 'Donkey Gringo' Lancley.
This weekend will see the BMGA's next major The British Open, returning for the 6th time to the wonderful course of Strokes Adventure Golf in Margate, Kent. 
Ask any of the long playing tour pros and wait for their facial reaction…. I doubt that you will find a player that doesn't have a story of a round on this course in which they felt the course bite them back , or think if only on that hole!!!!!  This is the home of one of the most feared round wrecking holes in the UK , Hole 11—'Heartbreak Ridge!' 
In 2007, the 7 round British Open on this course was dominated by the Europeans that had travelled from  Sweden, Germany and Finland. The later producing the eventual 8 under par winner Jouni Valkjari (Top left) with a 34.9 round average. In that year only 2 British players finished in the top 10, one of them still playing and participating this weekend Chris Harding.
Fast forward to the last British Open to take place here in 2013 and a lot had changed;
Michael Smith (top right) won the now 9 round tournament for a second time in a row on the same course by a staggering 49 under par, with a round average of 30.6. The British lions had finally found their teeth, now out numbering the Europeans in the finishing standings of the Top 10, by 8 Brits to 2 Europeans.
It will also be remembered for another reason;  a very special long standing record that was finally broken not just once, but over the course of the weekend broken 4 times and by four different players, 'THE SUB 30!' To the relief of the owners the prize money of the broken record only went to one player, the current UK Number 1 - Michael Smith but thats not to say Sean Homer(GBR), Adam Kelly (GBR) and Jan Hedström (SWE) rounds should be over looked, or not celebrated for this is Strokes Adventure Golf.
This is 2015, what will be your story of the British Open at Strokes Adventure Golf, Margate?
For some it might be "I shot a round under 40!"
For others it might be "I saved par 36 after being 2 or 3 over par after Heartbreak Ridge!" and for others "I made the final 18 for the Super Playoff round 9."
Whatever your story…. This unique course will ask questions of you at every hole, during every round, of your line, pace, ball selection and your courage!
Full details of the Open and the Players Championship can be found in the players pack at http://www.minigolf.org.uk/joomla/index.php?option=com_content&view=article&id=654:2015-british-open-players-information-pack&catid=1:latest-news&Itemid=105&Itemid=60
Last Updated ( Wednesday, 16 September 2015 11:44 )
Login
Who's Online
We have 29 guests online