| | | | |
| --- | --- | --- | --- |
| The British Lions return from a successful World Championships in Finland | | | |
The 8 man team reflect on their 2015 World Championships campaign in Lahti, Finland.
 
The 2015 World Championships were held from Wednesday 19 August to Saturday 22 August in Lahti, Finland with the Great Britain Minigolf team taking part in the event. A full team of 7 players - Sean Homer (Captain), Adam Kelly, Tony Kelly, Will Donnelly, Chris Wood, James Rutherford and Scott Lancley competed in the event supported by fellow International Chris Harding as the teams official coach for the competition.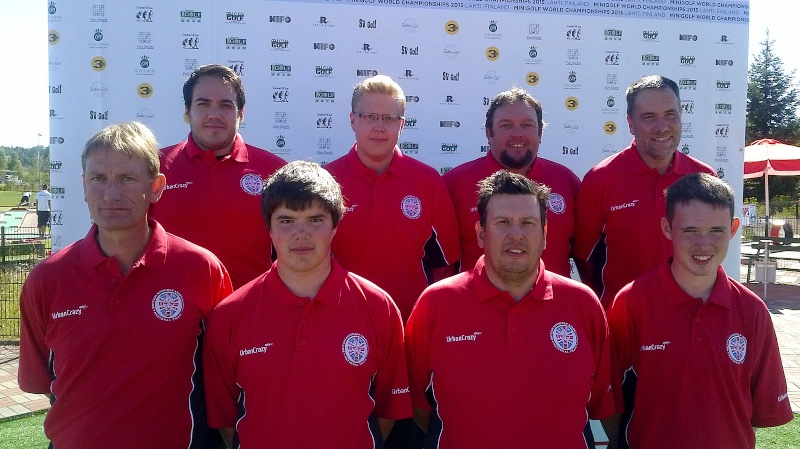 The British Team at the 2015 World Championships in Lahti, Finland
Back Row (L-R) - Chris Wood, James Rutherford, Scott Lancley, Tony Kelly. Front Row (L-R) Chris Harding, Adam Kelly, Sean Homer, Will Donnelly


Players from eighteen countries - Austria, China, Croatia, Czech Republic, Denmark, Finland, Germany, Great Britain, Hungary, Italy, Japan, Kenya, New Zealand, Russia, Slovakia, Switzerland, Sweden and Taiwan - competed in the tournament held on the two 18-hole courses - one Swedish Felt and the other Eternite - across the four competition days.

After 3 days of intense competition in Finland, Adam finished the individual strokeplay event in 51st place, with Tony in 66th place, James in 67th place, Sean in 68th, Chris in 69th, Will in 70th and Scott in 71st place. Great Britain finished the team event, encompassing the first 6 rounds of the competition, in 9th place overall.

The round by round results for the event can be found at the following link:

Strokeplay result: http://www.mrs.fi/wc15/tulokset/kokonaiset.php?luokka=2&c=0

Team result: http://www.mrs.fi/wc15/tulokset/keskeneraiset.php?page=joukkue&luokka=2&c=0

On arriving back in the UK, Sean Homer said "The tournament was a great learning experience for all of us and I was very proud to lead the team against the best players and teams in the world. I would like to say a massive thanks on behalf of the whole team to Chris (Harding), making his GB coaching debut for his support and hard work throughout the tournament. - we owe him a huge amount for the excellent performances put in over the competition. The courses provided a really tough challenge for all of us and it was incredibly satisfying to see all the team dig deep when it mattered to deliver some great rounds. The support and encouragement we received from back home was also hugely appreciated by all of us while we were away in Finland and knowing we had all of our fellow minigolfers cheering us on was fantastic. Once again the players looked outstanding in their national kit and a big thanks to all the team at UrbanCrazy for their ongoing sponsorship of the Great Britain team. The championships proved a fitting climax to the 2015 GBR international season and I look forward to seeing GBR take on the world again next year."

Coach Chris Harding said "I felt very proud to be the Great Britain Coach and it was great to see so many excellent scores during the competition. Our challenge now is to achieve these on a more regular basis."
Tony Kelly, one of the most experienced members of the team commented "'I really enjoyed taking part in my third World Championships and I felt that we took a great step forward in terms of international competition, both as individuals and as a team. My personal highlight was finishing my tournament with a new personal best round of 22 on eternite. I would like to say a special thanks to our coach Chris Harding for giving up his time to support the team and to our sponsors Urban Crazy for supplying the team shirts which made us one of the best dressed teams in Lahti. The 10 days we spent in Lahti are full of happy memories, from the endless sunshine to the buzzing harbourside bars. I am hoping to return to Lahti next year to take part in the European Seniors Championships".
Scott Lancley said "Although I am not fully satisfied with my own performance in this World Championship, I will have many long living positive memories of this tournament. You can not put a price on having the opportunity to challenge yourself on tough courses, every round, every day, against the best minigolf players in attendance and from around the world. Finland is a beautiful country with lovely welcoming people. Thanks to the BMGA for selecting me and thanks to WMF for yet another wonderful experience!".
Will Donnelly, the youngest member of the team said "I have had a great time out in Lahti both at the arena and off it to with my fellow GB teammates, it was my first opportunity to play in a GB team at a summer championships like this before which was great and an experience I will never forget and hope to be part of again. I'd like to thank all my fellow teammates for being part of the experience ensuring that we all had such a wonderful time along with lots of great progress being made which I am sure we can build on in the future. I'm hoping to use this experience to help me push my game on further in the future".
An extensive photo collection featuring our Great Britain players can be found at https://www.flickr.com/photos/13680867@N02/sets/72157655364401843

Selected photos featuring the GB players on the official WC facebook pages can be found at https://www.flickr.com/photos/13680867@N02/sets/72157657280921230

Germany won all 6 of the gold medals at the championships - winning the strokeplay and matchplay titles in the mens and womens tournaments along with both the team golds. Full results from the strokeplay and Team events can be found at http://www.mrs.fi/wc15/tulokset/ and results from the Matchplay can be found at http://www.mrs.fi/wc15f/tulokset/

Further details about the World Minigolf Sport Federation can be found at http://www.minigolfsport.com

The BMGA tour is currently on a break for the summer, returning in September with the Welsh Open on Sunday 6th and then we see the second Major of the year, the British Open take place over the weekend of 19/20 September ay Strokes in Margate along with the traditional warm up event, the Players Championship on Friday 18  September. Full details of all these competitions can be found in the upcoming events section on the BMGA website.
Last Updated ( Tuesday, 25 August 2015 14:12 )
Login
Who's Online
We have 798 guests online