| | | | |
| --- | --- | --- | --- |
| Latest news: Splash Point host their first Club Open competition and updated rankings published | | | |
Saturday 26th July saw Splash Point Minigolf Club host their first Club Open competition at their home course in Worthing. Having previously hosted the British Matchplay Championship and British Masters on the main BMGA tour, this was the first time the course had hosted their own club Open.

With an evening start adding a unique feel for the event, 18 players from across the UK representing 6 different Clubs, made their way to the tough and challenging Splash Point Minigolf Course (http://www.splashpointminigolf.co.uk/) to compete for the title.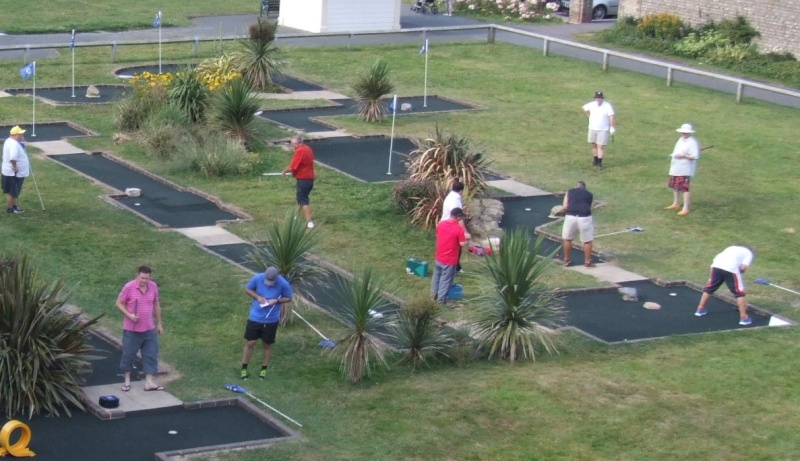 The Splash Point Open - Saturday 26th July - Worthing (photo courtesy of Anthony Pope)



After 3 rounds, the tournament was won by Michael Smith, the current UK number 1 player, representing the Midlands Minigolf Club for the first time in a strokeplay event. Having won 2 of the previous 3 tour competitions at the course, Michael was joint leader going into the final round and produced an excellent round of 31 to make a three round total of 99, seven shots clear of Nuno Cunha in second place. Adam Kelly finished 3rd overall, one shot behind Nuno, taking the junior trophy in the process.

As well as the top 3 winning prize money, there was also prize money on offer for the top 3 category 2, 3 or 4 players. Sussex Wasps Paul Preston took the win in this category, with Adrian Amey taking second place after winning a sudden death play off against Derek Bentall who took the third place and final prize money for the competition.

Full results from the competition can be found here.

The BMGA order of merit has been updated following the competition and the latest list can be found here. The top 4 remain unchanged, while Will Donnelly moves into the top 5 and with the competitions coming thick and fast following the short summer break, there promises to be a lot of movement throughout the rankings over the remainder of the season.

The main movement following the competition has seen significant changes in the Season Only Rankings, with the full breakdown of the updated rankings found here. Congratulations to Matt Dodd for leaping to the top of the rankings, just ahead of his Kent Team mates Adrian Amey and Marion Homer. In the individual categories, Matt leads the Category 4 players, with Paul Preston heading up category 3. Adrian leads the way in Category 2 and Mark Wood currently sits atop of the category 1 players.

The BMGA tour now takes a break for the summer, returning in September with the Midlands Open, the British Doubles Championship, and the second Major of the year, the British Open being held at the Pirate Course in Hastings over the weekend of 20 / 21 September and the traditional warm up event, the Players Championship on Friday 19 September. Full details of all these competitions can be found in the upcoming events section on the BMGA website.

During the break, the Great Britain International Minigolf team will be representing the UK in both the Youth World Championships in Lahti, Finland and the General class European Championships in Germany. Two of our juniors, Adam Kelly and Will Donnelly will be flying out to Finland on Friday 1st August with the World Championships teeing off from Wednesday 6th August and you will be able to follow their progress via Facebook, Twitter and the BMGA website. The following week will see our mens team of James Rutherford, Adrian Amey and Chris Wood fly out to Germany to compete in the European Championships. Again, you will be able to follow their progress as the events progress.



The British Minigolf Association (BMGA) is the governing body for Minigolf Sport, including Crazy Golf and Adventure Golf. Formed in 1998 the BMGA organises Minigolf competitions for its members across the UK.



For further details about the BMGA and UK Minigolf please email

This e-mail address is being protected from spambots. You need JavaScript enabled to view it or visit

http://www.minigolf.org.uk

.
Last Updated ( Monday, 28 July 2014 17:01 )
Login
Who's Online
We have 34 guests online