| | | | |
| --- | --- | --- | --- |
| The 2014 BMGA Season all set to tee off in Birmingham for the Star City Open on 26 January | | | |
Birmingham complex once again hosts the traditional indoor BMGA season opener
The 2014 British Minigolf Association season begins on Sunday 26th January when the Adventure Island Mini Golf course at Star City, Birmingham hosts the BMGA Star City Open. Players from across the UK will be taking to the greens at Star City for three rounds (54-holes) on the challenging Lost Hut Trail 18-hole indoor course. The defending Champion, and reigning UK number 1, Michael Smith will be back to try and make it 3 wins in four starts at the traditional season opener event. The tournament will tee-off at 8.30 am prompt (with the course open from 7.30 am) and the entry fee is £20 for BMGA Tour Pros, £10 for juniors (under 18's) and £25 for everyone else.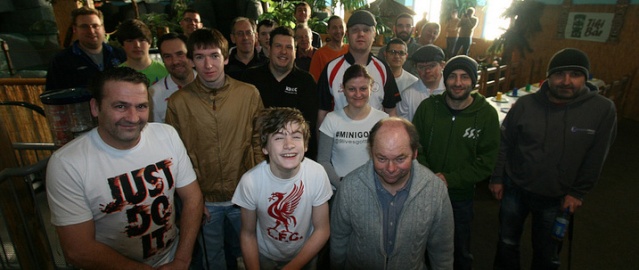 The 2013 BMGA Star City Open competition will be the sixth national ranking minigolf tournament the Adventure Island Mini Golf course has hosted. Entries are now being taken for the event and full details, including the latest list of players taking part can be found on the tournament information page here. 
The British Minigolf Association always welcomes new members. Anyone living in the UK and aged at least 14 can join in the fun. For 2014 the BMGA is again offering two tiers of membership. BMGA Tour Pro Membership is being held at just £20 until the end of January (rising to £25 from Feb) and entitles players to discounted pre-event practice rates at tournament venues on the calendar (some venues will offer these rates all season) along with reduced entry to a number of events on the tour. Alternatively you can register for free membership via the BMGA website, ensuring you receive regular newsletters on forthcoming events and results from the BMGA Tour. Details of the early bird offer and more information on membership can be found here.
On Saturday 25, the day before the season opener, there will be a Players Forum taking place at the Fort Dunlop Travelodge (from 10am – midday). The Players Forum gives those present a chance to discuss matters directly relating to our players. It has worked well each time it has been run and following the previous meetings will focus on a variety of matters including a review of the 2013 Season and the announcement of the 2014 Tour Calendar.
The BMGA executive committee welcome and encourage players to forward ideas for discussion in advance to enable an agenda to be circulated before the meeting. Sean Homer, BMGA Chairman will host the meeting giving players the opportunity to have their say, ask questions and talk about ways to further improve the experience of our members. If you are planning on attending the meeting or have suggestions and ideas that you would like to discuss at the forum then please email Sean by 20 January at  This e-mail address is being protected from spambots. You need JavaScript enabled to view it .  
The BMGA AGM will take place in March (details to be confirmed shortly) and the Players Forum provides a great opportunity to discuss ideas / raise motions which can then be voted on at the AGM (ensuring that the motions raised at the AGM have been well thought through and discussed with genuine active players on the tour).
The BMGA Tour consists of Minigolf ranking events that take place at Minigolf, Crazy Golf and Adventure Golf courses across the UK. For further details about the BMGA and UK Minigolf please email  This e-mail address is being protected from spambots. You need JavaScript enabled to view it  or visit the BMGA website.
At Adventure Island Mini Golf there are two 18-hole courses. Both of these have been designed and built by Castle Golf and provide fun challenges to everyone whether they are an expert golfer or have never held a club before! For more information on Adventure Island Mini Golf please visit the course website.
Last Updated ( Thursday, 09 January 2014 14:36 )
Login
Who's Online
We have 36 guests online